It All Happened On A Tuesday
March 7, 2009
It was an ordinary Tuesday, except for the fact that it was raining in the middle of a drought and Bertha had not made me dinner yet. Every night Bertha made dinner for me. On every Tuesday we had meatless pot pie, baby carrots and garlic mashed potatoes.
"Bertha, are you feeling alright?" I asked.
"Yes, why do you ask?" she replied
"You just don't seem like yourself today. You've forgotten to make dinner, as well."
"Did I? Oh, silly me, what would you like?"
"It's Tuesday. We always have meatless pot pie, baby carrots and garlic mashed potatoes on Tuesday. Are you coming down with a cold?"
"A cold? No, I'm fine. I'll get right on that. Meatless pot pie did you say…?"

There was a loud thud in the kitchen. It was Bertha trying to find the pots and pans…she found them. Meanwhile, I tried to busy myself by watching some TV. Every Tuesday I would watch Jeopardy and then the nightly news. But that night, I couldn't even look at the screen, I could only think of Bertha. She was perfectly fine yesterday, but today she seems like someone else. I smelled food cooking in the kitchen, it was getting late and I was terribly hungry.
"Everything okay in there Bertha?"
"Yes! Yes, I think it'll be done soon."
"If you need any help, just ask."
"Not necessary, I'll be done in a flash."
Outside it was still raining. I listened to the news and heard there was a chance of snow. Snow in California? In the middle of a drought? What's going on? A couple walked by holding hands; they were running to get somewhere, out of the rain, I assumed. A whole family gathered outside their house across the street, they were bundled in snow gear, eagerly looking up at the night sky.
"I think I'm done!"
"Great, I'm starving"
"I hope it's good. I hope it's how you like it."
"I'm sure it is, it always is."
"Always, huh?"
I sat down at the table only to be puzzled. I was sure I told her meatless pot pie, baby carrots and garlic mashed potatoes. To me, it looked like burnt bread, a heap of soggy white something that maybe resembled mashed potatoes and uncooked orange mush.
"What is this, Bertha!?"
"What do you think it is? Dinner."
"This is not meatless pot pie, baby carrots or garlic mashed potatoes. Frankly, this doesn't even look edible!"
"Well, what did you expect? I'm not a chef!"
"You took cooking in college! You cook everyday!"
"Oh, you're getting so worked up. This is no big deal. I'll just order takeout."
"Takeout! We never order takeout. Especially on a Tuesday. That is just so unpractical."
"Well then it looks like we're not eating!"
"Something is wrong here. What is wrong with you Bertha? You are acting very, very strange. You are not yourself tonight. I think I need to call a doctor."
"I will hear of no such thing! I think I just need some fresh air. I'm going for a walk."
"A walk!? It's late and it's Tuesday and it's raining…and now it's snowing!"
"Perfect. That's just what I need; a change of pace. I guess it doesn't snow too often around here. I'll be back…whenever."
There was no stopping her, she was simply mad. She was not the Bertha I knew. I was starving, Bertha was going crazy and it was snowing. She had been gone no more than ten minutes before the doorbell rang. I opened the door and there was the mail man.
"The mail never comes this late."
"Well it does today, have a good night!"
The mail man gave me one, small envelope. Enclosed was a piece of paper that simply stated, The woman that just left is not Bertha. Bertha is gone.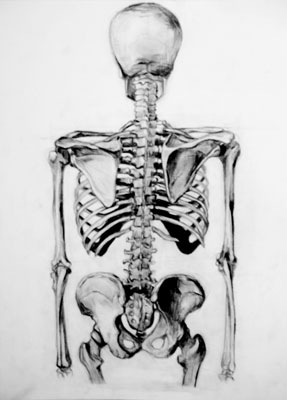 © Nina G., Nashville, TN