Mysterious Party Trap
October 23, 2017
O
Chapter 1: Alone

Mysterious Party Trap      
           A loud knock shook the door. I approached it having no clue of who it was, or why they were bugging me at this hour. I clutched the doorknob and turned it slowly, opening the door to find nobody in sight. It was dark, the wind rustling leaves and a like post shining a spotlight on empty bench. I was about to turn back, when all of a sudden I noticed a small brown box on my entry mat. I picked it up, returning into the house slamming the door bit too hard. I sat down on my couch, my previous spot indented.
           I quickly opened it, eager to see what was inside. There shown a scroll. I pulled back the sides. Inside was a message written in a calligraphy pen. It was an invitation to a party, telling me to look sharp and wear a mask covering my face. Under it in small print read the address and the date, October 13th.
           The day came, I dressed extra early. I put on a black and white-striped tux with a matching fedora. The latex skull mask was on tight with a black band strapped across the back. There was an hour until I had to go, so I decided to watch some TV. I watched it for a few minutes until I got very tired. My eyelids weighed down and I fell into a deep sleep.
           I woke up from a loud sound coming from the TV. I read the time across my watch, 11:26, I'm late! I ran out the door, slammed it. Hopped into my car, turned it on, and left. Moments later, I arrived at the house. It was towering and dark. I ran inside, to find a flickering light. A clock chimed 12 times. I wondered where everyone was. I turned a corner to find a woman, in a yellow dress. She was lying on the ground, covered in the blood. I picked her up, trying to feel her pulse. She was dead. I had her blood soaked into my clothing. I freaked, and bolted out the door.
           The sound of distant police sirens grew louder until I saw them in plain sight. They caught me when I left the mansion. They told me to freeze and stick my hand up in the air. My heart was beating out of my chest. Of 4 officers, 2 went into the mansion to investigate, while the other 2 aimed their guns at me. A couple minutes later, the 2 officers investigating the house came out. They told the others it was a murder, and that I was the prime suspect so far, having not seen anyone alive in the area. I was on the verge of fainting.

The End!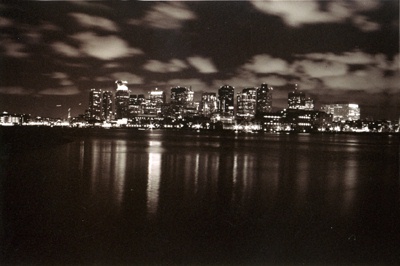 © Hoang P., Rochester, NY