Deep Down in the Dark
October 17, 2017
The brisk air brushed my rosy cheeks as the stars beamed across the black sky. Short, brittle hairs across my neck stood as the tall woods intimidated me as they grew darker and darker. The sun had left its place on the horizon long ago, leaving me alone with my only fear. The dark.
Leaves crackled as my feet met its surface and the black birds got lost in the night sky. The last bird nipped my shoulder with its wing, causing me to stumble over a branch. I laid still among the dirt and sticks that turned my palms red. The silence was distracting as each second felt like the end. Then it ended, what seemed like footsteps somewhere in the distance. Suddenly I missed the silence. 
Nothing was to be seen, like the forest was taking my sight away. I laid wondering if every breath would be my last as my heart beat faster and faster. Then I heard it again, except closer. Jumping up to my feet, my legs sprinted away from the sounds. My heart pounding faster than ever. A sharp pain filled my leg and my body managed its way into a hole about six feet deep. The footsteps thumped above my head as I crawled out of the only beam of light. My eyes gazed at the light, being my only comfort.
What felt like hours later, the air was silent again. My feet found its way high enough in the dirt so that my arms could reach the top. I lifted myself up about halfway before a hand grabbed my leg and brought me back into the darkness. My fingers lost contact with the surface and I closed my eyes before my head bounced off the ground. Leaving my eyes in total darkness.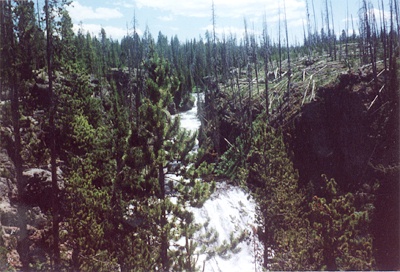 © Josh W., Peoria, AZ