Whisper
October 13, 2017
The pit-pat of the rain interrupted my thoughts, and the crackle of the thunder. Pit-pat, pit-pat the large rain drops hitting my window. Suddenly, it was pitch black and my visibility was low. The power was out. I was home alone and I've always thought my house was haunted. KABOOM! The thunder interrupted my thoughts.
I hear somebody walking in the kitchen downstairs, opening cabinets and slamming them closed. Opening the windows and letting the crisp air of the night into my house. A dark voice saying, "I know you're here child," "Come here child." His seductive voice sent shivers down my shine. I didn't what to do, I didn't know where to go and my time was limited because the half-man half-devil darted up the stairs into my room. His face is a bright crimson with dark hair, pointy teeth and dark clothing with a crimson tail. 
I didn't know where to go or what to do. I heard an awful noise, at first, I didn't realize it was me. I tried to run away but my body wasn't responding fast enough. He grabbed ahold of me with his claw hands and wrapped them around my neck. I felt his breath hitting my neck, his crimson eyes staring into my soul. He started to choke me, and there was tearing streaming down my face. He said "poor child you are so sad you have to die this way."
I jolted awake, drenched in sweat. Darkness surrounding me and the pit-pat of the rain. The silence in the house. I sat up in my bed and let myself caught my breath. I turned my head and there he was, whispering my name.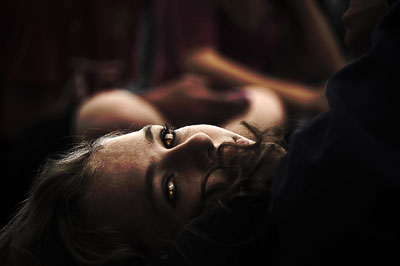 © Calvin C., Salt Lake City, UT