Cafe 5
February 15, 2017
Young Brown dashed to the crime scene as soon as he was called. He got to Cafe 5, the crime scene, and found the police gathered around the victim. Together with them was the famous Vancouver detective, Walter M. Morris, renowned not only for his crime solving capability but also for his great skill at investigating the private life of specific people. Morris was never found without his old, wooden smoking pipe.
Detective Anthony Brown found that the cold pale body on the floor was property of Thomas Raw, Cafe fives owner. Anthony crouched down to take a closer look at the body. All of a sudden, an ox strong grip took hold of Brown's shoulder. The young man jumped up and found Morris an inch away of his eyes. He shook off a deep shiver rising up his spine. They greeted each other and went over to a corner to discuss the case.
The theory was as followed: one Tuesday night, Mr. Raw stayed up late working at his shop, cleaning the floor. Someone had surprised him from behind with the gift of a broken neck. His wife got worried and went off to his store where she found him "sleeping" on the ground, never to get up again.
Brown decided to go step by step. First, he would inspect the shop and interrogate his main suspect, Mrs. Raw. He got a sizzled cup of coffee and begun his tasks. He examined his crime scene, and was left open mouthed. Not even a clue of the murderer's entrance. Perhaps, he would have more luck with Mrs. Raw.
As the detective got to the house he noticed a red blood stain on the door handle. He got out a slick and shinny gun and hid it close to him, just in case. He rang the bell a few seconds. After a moment, a lady came out.
Her hair was short and made her look like a bright cherry with emerald eyes and ruby threads. She was dressed up like if she was going out to an elegant dinner. The questions had begun as soon as possible.
Q: Did you love your husband?
A: Yes. The true question is … did he really love me?
Q: What does that mean?
A: We had a small argument a few days ago at dinner, around two I think. He cut my hand with a knife. Its blade did not cut deep into me though. Then, I ran out to a hotel. I think he sent to look for me. A man started out for me. There, I lost a copy of Cafe fives keys. Luckily, I have another.
Brown realized she was not the one. Mrs. Raw gave him a bill she had found. It was dirty. A dusty black smudge crawled over it. Brown put it safely into an evidence bag.
Brown's eyes were now focused on the body. He looked at the injury and found the same black dusty smudge. Now, a smile was on every corner of his mouth. You could see his teeth plucked out. His eyes lit up like a match. He was then invited by Walter to a drink at a bar.
After some drinks, Walter headed off to the men's bathroom and left Anthony his crooked pipe. Anthony held it for him with pleasure. When Morris was back, Brown handed him his pipe. As he took his hand away he noticed a black dusty stain. Anthony's eyes glowed, which led him to a big clue. Morris made a frown when he understood what happened. Brown rushed out the bar and dashed into Cafe Five.
Anthony slightly opened the shop door and got near the body. He glared at the black dust on the neck of Mr. Raw. "Morris," Brown whispered. He had been with the murderer all along! His new theory was that Raw had hired Morris to spy on his wife. He looked for her and got a copy of the shop keys. When the detective was not paid, he got into the shop and killed Raw!
All of the sudden a black figure came out of the dark with loud footsteps.
"You were looking for me?" I replied, "And if I was?"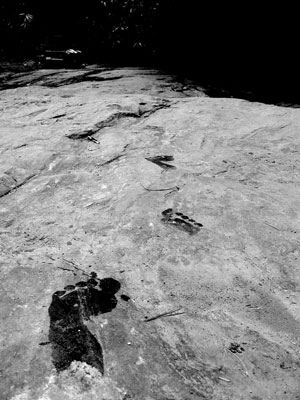 © Michelle B., Blairsville, GA