A Dream
October 30, 2016
It's dark.

The moon is bright.

There's a highway and a forest.

The trees are wet.

Sirens.

He pulls over.

A cop raps on his window.

"What're you doing out so late?"

He's driving back from a party.

"Have you been drinking tonight sir?"

He hasn't.

He looks sober enough.

"Alright, drive safe, then."

He nods.

"And you'll want to keep your lights on around here."

He drives off.

Twenty minutes pass.

The music is soft.

He turns into the woods.

A dirt road.

Ten minutes.

A gate.

He steps out.

He walks around and continues on foot.

Leaves ruffle between his steps.

A sound.

Light at first but getting louder.

Digging.

And some panting.

Still a hundred yards off.

The crickets are silent on this night.

Over the ridge.

A flashlight.

It shimmers back and forth as the person holding it works.

He is seen watching.

The light bounces wildly as it runs toward him.

He freezes in his place.

Black teeth.  Yellow eyes.

Hardly ten feet away.

Those horrible yellow eyes…

They'll be there forever.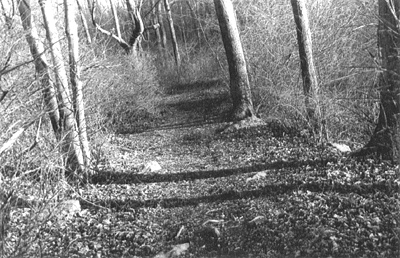 © Nicole N., Wilton, CT