False Love
MAG
September 26, 2014
Here, with him, in this house, there aren't any mirrors. That's okay, though, because he always makes me feel special. I don't have any need for reassurance. Even if I could see a reflection in the windows, I wouldn't need to look.
Sometimes when I'm here, with him, we leave this house. That's when I see my face everywhere, and I always look the same: happy, young, and fresh. The way he makes me feel – just like nothing has changed since we met.
When we are going out, he gently adjusts my sweater to cover the bruises. I rarely take that sweater off. It's my favorite, the one I was wearing when we met.
Here, with him, in this house. We return from a dark night of riding in his van and staring at all the virginal beauty the city has to offer. I fall asleep with my arms above my head and my feet tight, close together. Almost as close as I am to him.
I like being here, with him, in this house. We moved in together so quickly, I can't even remember how our relationship began. It's all been such a blur. I know that it happened when I was walking home from school one day. When I ask him about it, he says he remembers it clearly. He says I was alone and that he offered to carry my books. He says he had admired me for a long time.
Here, with him, in this house, I have suspicions that he's planning a surprise trip. He keeps a bag beside the camera monitor next to the door. Ready for a new adventure. A holiday would be nice, somewhere sunny, maybe. But I wouldn't want to be away for too long.
I like it here, with him, in this boarded-up house with no mirrors. Here, where I sleep vertically and bound. Here, where he has a camera watching. Here, where he keeps an escape bag by the door.
Yes. I like it here, with him, in this house.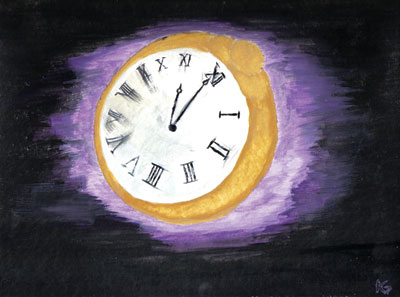 © Kyle G., Clarksville, TN