The cursed
September 14, 2014
"Let's play a game."
"No, I don't want to." said Cathy.
"But I want to." the stern voice of the other girl scared Cathy.
"What will you do if I don't?"
"That's easy, kill you." said the other girl with a danderous smile beginning to appear on the corners of her lips.
The gir's whisper climbed into Cathy's ears and a shiver that ran down her spine.
"You know I can't." protested Cathy. Her eyes were now watery and shimmering with tears, she was afraid.
Acruel smile was now on the face of the other girl. she was as pale as snow with dark red blood oozing down from her ravenous black hair.Her cold eyes penetrated to the back of Cathy's mind and frightened her thoroughly. 
She was not a person. She was a spirit.
"Please! leave me alone!" cried Cathy. Her lips were trembling helplessly with fear.
The dark surrounding grew more dark. The old room which the living and the dead now shared began to look terrifying as if something evil was about to happen. The old clock that sat on top of the shelf above an ancient hearth that had long forgotten the fire that burned within itself began ticking suddenly and fast.
The entire place grew freezing cold and Cathy's breath froze before her like a cloud.
"Don't cry Cathy. I'm your friend don't be afraid. Now play with me or ...you know what'll happen." said the spirit staring at Cathy as she came closer and closer. Her moth eaten frock swayed as she edged closer.
She uttered a strange word that wasn't English or any other language that Cathy had known but it sounded as if she said 'Brace yourself'.
The old chandelier that hung from the ceiling began to swing as if someone was forcing it. It's sudden movement threw Cathy to the tip of panic and fear and she rushed out the room.
No matter where she went the walls shuddered and objects flew out of their places and she found herself trapped within the old building.
Cathy screamed and tried to get out of that haunted place but somehow she just couldn't. Blood appeared on her hands out of nowhere. It dripped down onto the floor. Cathy screamed even more.
Aslow and faint laughter echoed through the forgotten room and the corridor. It was continuos and horrifying.
"Stop! Let me out! Let me out! Now!" screamed Cathy but it was of no use.
She was now a piece of the devil's game. A poor trapped little soul amidst the decayed and the dirty souls of the dead. The building shuddered more than ever and voices sounded out from within it's walls.
Cathy's heart skipped a beat when the frightening spirit of the dead girl stood right next to her as she turned.
 She tried to get away but as she ran and looked around to see if she was being chased, the spirit grew more visible, more clear just like a real person.
With nothing more than the fall of cement from the ceiling, the entire place suddenly stopped shaking.
Cathy was now all alone or at least that's what she thought. Her heavy breathing was loudly audible and with it was fear and panic mingled together. She raced out through the front door.
Poor little Cathy never realised what she had gotten herself into when she had spoken with the little pale girl playing with mud in the park two week earlier. The girl who wasn't visible to anyone but Cathy and befriended her with a purpose.
Now it was completed. She was free. Cathy was trapped.
As Cathy ran out of the building, she felt relieved. She could go home now and get herself cleansed by a pastor, forget this ever happened and live her normal life once again. She calmed down a bit and turned around. Cathy gave out a blood curdlig scream as she saw herself walking out throught the front door of the building she just came out from. She didn't understand, what was this? was she dreaming? did she pass out in there? what was this? Utterly confused and terrified, she recognised the sudden smile that her other self flashed to her and walked away.
The dead was living and the living dead.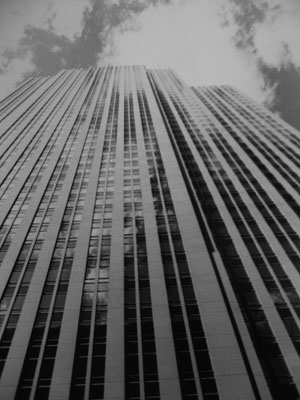 © Aaron B., Eagan, MN