His Story was All Too True
September 20, 2013
The teenager scaled the stairs to the landing, which was away from the other kids and, so naturally, became his refuge for the past three years. He suddenly felt like he was not alone, as he always was, so he started looking around from the corners of his eyes. His eyes soon focused on a tall figure in a World War II era uniform, and, as soon as he did, the figure spoke.
"I'm cold. I can't move. I can't breathe. Will you help me?" The last question, more of a command, reverberated around the landing, and the teenager suddenly felt threatened.
He asked shakily, "Wh-wh-who are you?"
The figure answered, "Help me."
The teen asked, "What with?"
The figure again answered, "Help me. Help me! HELP ME!" By now, the teen was throughally spooked. He started backing slowly until he found the stairs, but the figure, who'd said he couldn't move, sprang at the teen with the litheness of a leopard. The teen yelled and fell back down the stairs and moved no more. And, this being a lonesome nerd in high school, no one bothered to check on him.
James finished the ghost story and a shiver ran around the group, despite the blazing campfire. Then, he delivered the final kicker: "That figure, that ghost, still exists, preying on those who seperate themselves from a main group of people." And, for a second, James' shape flickered and a figure with grey eyes and a World War II uniform sat in his place. I blinked and James was back, but I knew one thing: his story was all too true.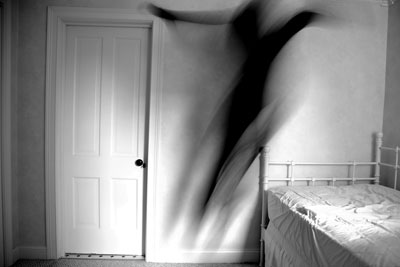 © Sarah M., Blairsville, PA