The Test
September 14, 2013
I sit down in a rotting wooden chair and tap my long fingers nervously on my thighs. It's test time.

I look around the empty room. Why is nobody here? They said to be here at 9:35 a.m. in the morning.
I'm here.
The clock is ticking and it's 9:35 and there's nobody here and I need to take my test.

I notice a pile of papers, clean, sitting on the desk in front of mine. Maybe, if i just take a look, I can finally know what the test is about.

My chair scrapes the floor loudly as I stand up. It fills the noiseless void of the room. Breathing heavily, I look at the test.

Question 1: What is your name?

But I don't have a pencil. The clock is ticking. I look back at the test.

Question 1: Tell me your name.

I drop the test in shock, backing away.

I trip over a power cord and the lights in the room go out. A Beatles song begins to play, but the music is twisted and cuts out often.

I can't see anything.

I notice a light in the dark. The test is glowing.

Question 1: TELL ME YOUR NAME.

"Help! Help! Get me out of here!"

Question 1: One more chance. You know what will happen.

"Please! My name is Eva!"

Question one: LIAR.

"I'm not lying! Please!"

Question 1: You have failed the Test.

I cannot move. I cannot speak. I cannot think. I cannot breathe.

I am no longer alive.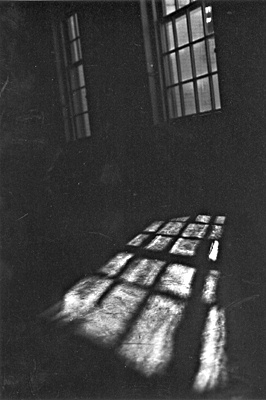 © Mary A., Fullerton, CA