Jeffrey
July 29, 2013
The smell of fresh air was so sweet. I always dreamed of living in these woods, making this serene beauty mine. It had rained just the night before, so I was trekking through the thickest mud. My eyes were fixed on my brand new Nike's the whole time. My mom was going to kill when I got home. Why I didn't just wear my old sneakers I'll never know. I have a bad habit of making decisions without thinking. That's one of the things me and Jeffrey have in common.

Jeffrey and I have a lot of are a lot alike. His favorite food is my favorite food. His favorite shows are my favorite shows. Whenever we hang out, we'll talk for hours. Jeffrey is the best listener I've ever met. Any problem I have Jeffrey will listen. If I have an idea on how to handle these problems, he'll support me all the way. We agree on everything. He's the best friend I've ever had.

At the same time, I also envy Jeffrey. He gets to live in these woods without any authority whatsoever. He's so lucky. I'm just glad that he invites me over every day. I wouldn't have it any other way.

As I worked my way through the mud, I came upon the picnic table. The table was the point that I take a left turn and push my way into the brush. I always come home with ticks all over my body because of this, but it's worth it. I had memorized the directions to the point where I could repeat them in my sleep. I moved forward until I hit a tree with a No Hunting sign. That's when I turn right until I come upon a small creek, Jeffrey's home. When I found the creek, then I look for the door that works as a makeshift bridge over the creek. It was Jeffrey's room.

Jeffrey always needs a little help coming out from his room. He can be so lazy. I laid myself on the door looking downward. I could see his hand sticking out from the doors shadow. I grabbed the hand to pull my friend from the creek and onto the door. I then pulled him over to a nearby tree and sat him down. We talked for hours. We know each other so well. I'll even finish his sentences on occasion. Before the sun went down we dined on the skittles I had in my pockets. Jeffrey always asks me to feed him. Like I said, lazy. After our meal, I put Jeffrey back in his room and said goodnight. I then made my way home with the widest grin. I'm so lucky to have a friend like Jeffrey.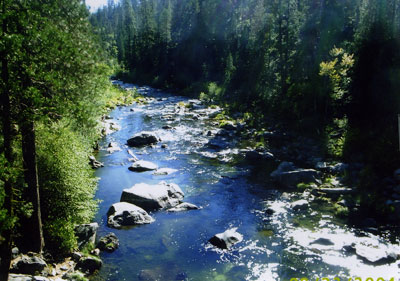 © Laycie C., Stockton, CA