Lovely Letters
March 29, 2013
Tricia received an envelope with no return address. Curious as to whom it was from; she opened it to find a letter.
Dear Tricia,
If you're up for an adventure, follow these directions on May 8 starting at 5pm. I can't wait to see you there!
xoxo,
Michael
On the opposite side of the page was a set of directions and then the line "you will receive more instructions when you reach that destination."
Tricia was ecstatic. Her boyfriend, Michael, was at boot camp and was not expected to be home for another two weeks.
On May 8, Tricia got in her car and followed the directions to a trailhead. Taped to the sign was another set of directions.
She began walking on the trail, until the directions indicated that she needed to turn off. The forest started thin but eventually got very dense.
Finally, after walking for nearly an hour, Tricia arrived at a small meadow. The meadow was circular shaped, no more than ten yards across. It was surrounded by dense trees, like the ones she walked through, and it was filled with wildflowers. The setting sun next to her made the scene even more breathtaking.
Since there were no other directions in sight, she assumed she had arrived at the right spot.
She called out into the empty meadow, "Michael, are you here?"
A stranger stepped through the trees across from her and called back, "Why hello, my dear."
"You're not Michael!" she exclaimed with a shock as she stumbled away from the man who was slowly approaching.
"No, my sweet" he answered. "My name is indeed Michael. However, I never indicated which Michael I was in my letter."
There was a sly grin on his face as he walked even closer. Tricia was numb. She knew there was no way she could outrun this man, and even if she could, she'd never find her way back to her car and there wasn't anyone to hear her scream besides the man who was now right in front of her.
He caressed her cheek and asked, "What's wrong, dearest Tricia?"
She chocked on a scream and stumbled backward. She tripped on a rock, or did he push her? She couldn't recall. The only thing she knew was that she was falling now.
The last thing she saw through her panicked eyes before her vision went black was the evil grin on his face looming above her.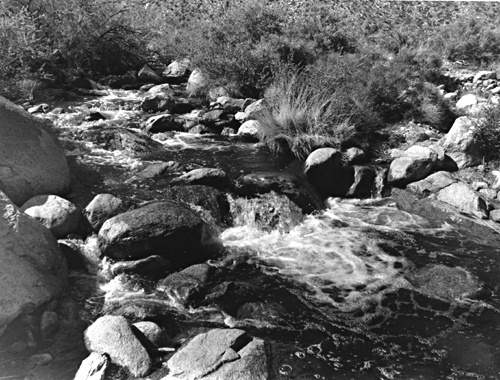 © Becky S., Stony Brook, NY