The Wild Night
February 26, 2013
I was wide awake with my party dress on in my bed till 11:30pm. I am so excited and can barely sit still. When the clock hit 11:30 I jumped out of bed. Then I tip toed down the hallway and peeped my head in my mom and dad's room to check to see if they were sleeping. Then I went downstairs, walking quiet to make sure the stairs don't creak. When I finished, I ate a quick snack and called my best friend.
"Hey Tiff, ill be over in 10" I said.
"Okay! Sounds good!" said Tiffany
I opened the garage door scared that it would wake my parents, but thankfully it didn't. I went back inside and grabbed the keys to my dads prized possession, his car. I stared at them in my hand. This was probably the closest my dad would every let me get to his car. Then I started to get to second guess myself. I was thinking about what would happen if my dad found out I took his car out for a little ride. He would probably execute me and take away all my electronics for 3 years.
But then I started to think about the good that would come if I went. I would actually be known around high school. I would no longer be the "loser", the one who stayed at home Friday nights studying or the girl with only one friend. I wanted to show people that I knew how to have fun and let loose too. That when I decided to just go. I got in the car and sat there till I got my confidence and drove off.

***
I was uneasy about driving it on the main road. When I got to my friends house about 5 minutes later, I had to drive my dads sport car all the way up the long, narrow, steep hill, barely making it because of the ice and snow. When I made it up, I could finally could start breathing again. My friend got in the car. She also seemed a bit worried too after giving me a concerned smile.
"Ready?" I asked her
"Yeah I guess…" replied Tiffany
And that's when I started slowly to back out down the long driveway slamming on the break every time the car moved. Every thing was going smooth when suddenly my back tire hit a chuck of black ice. My car went flying down backwards probably going a well 100 miles per hour. I didn't even see it coming and lost control. I had no idea how to handle this kind of situation. My hands were uncontrollable, shaking and sweating. The only thing I did was close my eyes.
That's when Tiffany yelled "Abbey!"
I opened my eyes to find a big tree behind us getting closer and closer by the second. All I could do at this point was brace for impact. I curled my entire body in as tight as I could, and before I knew it I went flying forward, ripping my neck back and forth. We weren't wearing seatbelts and our heads almost went straight through the glass windshield. My whole body was whip lashed and I was shaking and could hardly breathe. I had no idea what just happened or what to do. I looked to my right and I see Tiffany. She is unconscious and I notice her neck, it just doesn't look right. As I move to try to get a better look her I see that her neck is out of place and her head is almost lower than her shoulders and see bones popping out. I shake her and nothing happens. My breathing rapidly gets heavier and deeper, sweat starts to drip down my face and the car suddenly gets extremely warm. Why won't she wake up?! Then I put my ear up to her mouth I am praying that I hear or feel her breath on my little ear, but I don't.
This could not be happening. It wasn't supposed to happen this way. We just wanted to have a fun night, but we got the complete opposite of that.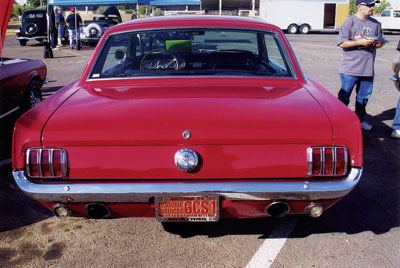 © Andy G., Phoenix, AZ