Closing
February 13, 2013
My door was closing.
I couldn't believe this was happening
You would think I would grow out of things like this
I've had this fear from when I was really little that my door was closing ever so slowly until it finally slammed shut and lock me in my room. Then the monsters would strike. Somehow, this nightmare persisted on into my early teen years. My mother, who likes to consider herself an expert on the workings of he human brain says that it's just me diverting my real fears, like an impending math test of doom, into something that used to drive me into fits of hysteria, which seems familiar and easier to deal with. I don't really know what she's talking about when she says this but one thing I'm sure of is that this time it's actually going to happen and I really will be locked in my room. Except I've moved passed the boogeyman and the hairy monsters and now am on to demons fit for horror movies. I try to think of something else. Talking with my friends during lunch or how I'm going skiing this weekend. But my eyes stay fixated on my door. My breath comes out quickly and I try to tell myself that this is stupid, that there is no way on gods green earth that somehow my door will magically close, but things that may seem stupid in the day somehow take on an eerie glow at night. I remind myself that I'll wake up in the morning safe and sound. I remind myself that if I go and tell my mom, I will never live it down and will never get a peace of mind. My foot is inches from the floor, but I pull it back underneath my covers. Go to sleep I tell myself. Go to sleep and everything will be okay in the morning.
My door shuts closed.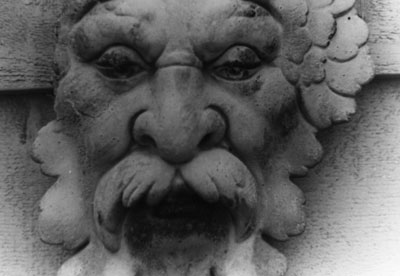 © Mary W., McLean, VA