A Moment In My Mind
December 5, 2012
A Moment In My Mind

The glass shattered in my hands. Becoming a million pieces of crystal as it hit the floor. The light bounced and ricocheted off the fallen pieces of diamond, creating the illusion of beauty and delicacy.

Yet, as I looked at my hands I saw the red iron liquid flow freely from them, hot and dark; going under my nails, making it a part of my identity. I couldn't clean it. Cleaning one part would give way to double the crimson water released.

Looking at my face I saw claw marks down my cheeks, fresh with new scabs, a thin layer separated me from the pumping liquid that keeps my shell (a body as it's commonly called) alive. When I felt my face in place of my eyes were holes; black voids, endless, bottomless. My hands dragged down my face stretching it, contorting it. I felt my skin sag, shapeless, weak no support from my bones. I began to see my hair fall in clumps at my feet, a dull grey color, rough and brittle.

Closing my eyes I counted to ten slowly at first but as I felt myself forget to breathe I counted faster. I felt as if some kind of weight was pushing on me. I tried in vain to fight it. Just as I felt myself slip away, I opened my eyes.

Looking back at me was my eyes, my face, and my hair. Clutched in my hand was glass rose, still intact and ever beautiful.

The cuts on my face were gone. Beautiful cyan orbs of light replaced the void black holes. My hands that were once red were now a soft white complexion, unmarred by the scarlet liquid that had once drowned them. On my crown lay my hair, a deep chestnut brown, soft and thick. I was myself again yet I didn't know where I had gone.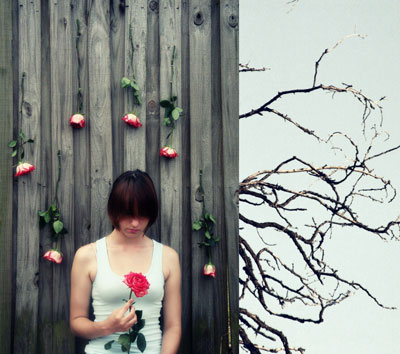 © Taylor S., Deltona, FL