The Danglings
December 5, 2012
The DANGLINGS

As soon as I looked up I saw them just dangling. I'd looked up at this ceiling for nineteen years and never thought anything of, except that it was beautiful. So why is this time any different? Is it because I know what they are and what it means? Is it because I finally know the horrid secret that lies with these dangling's? The atrocities within doesn't make them any less beautiful. Nothing has changed. Mom is still mom. Dad is still gone. GONE. That's the word mom used when he disappeared 10 years ago. Whatever that means.

Maybe I've changed because it's reason. THE reason. The reason I am the way I am. The reason why I've done the things I've done and the reason why I continue to do them. The reason why I can't stop. I know now why I'm bad and why I will never be good. It's in my blood. I was meant to cause havoc and trouble. I was meant to ruin. Meant to destruct. The dangling's are proof. Now I can stop trying so hard to restrain myself. I can let my urges run free. I've always felt ashamed of my twisted thoughts and feelings. Things have changed. I've changed. I'm free!

I look up now and embrace the horrid-beautiful things. They represent everything I am and everything I want to be! I am the dangling's. A fearful, beautiful creature sent to destroy. I am the dangling's. I accept the dangling's as they are as I except myself.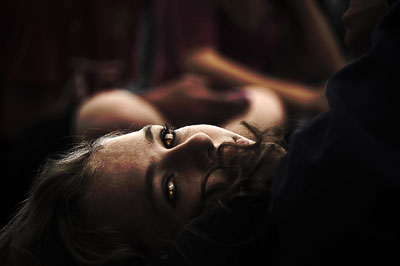 © Calvin C., Salt Lake City, UT