Broken Bones of the Crystal Children Part no.1
November 28, 2012
He never seemed to imagine a life without his one and only true son, though the day Señor got the news, he was a shipwreck of his own. A total catacombs of catastrophe, his beautiful life wilts of moldy roses and Bombay Sapphire tonics. Señor eased his way towards Madrid and left his beautiful home in Casablanca behind, he didn't want to see the perfect crescent phase of his son's face in the mirrors and behind the windows at night.

Till this day Señor refuses to take a cruise, to look into the water, to see his son's face if there was a giving chance. He tucks himself in the eye of Spain for a reason, to be where he could be when he was Manny's age. Señor Joan Martinez Christo lost a half of himself in the ocean, the other half to the metro stations beneath the crumbling cobblestone, the vital veins exposing the vast Madrid.


A haunting fact; Manny died on Halloween night. A fact that will forever willow in your head; he died in the skin of a zephyr sugar skull, of bloody crimson and gunmetal charcoal. Manny set sail for college around the world, coast to coast, port to port, wave to tumbling wave, he never made it back in his own skeleton. The conclusion was exposed for a virtue of the students who got off board, laced in words beside him; "This is why you don't drink."


To find your son pulsing of only doll flesh and porcelain complexion is one thing, to find your son's corpse completely doused in flaws is another. Manny had no need to be teased for succumbing to the college remedies of bad boy escapes. The Christo family are better off known as Spanish royalty throughout the Arabic roots of Portugal and Morocco.

Of course there's a fault when you're a widow father; you drink, obsess with about a young girl who studies in the cafe across the street and you feel as though you want to hunt your son's killer when you're literally falling for the same tonics, just not into the pacific. You are park memoir listening to bohemian melodies and studying street performers. A vice of a nightmare...

"Senor?"

"... Pardon?"

"I said I would love to invite you to my gallery showing Sunday, you're able to come right?"

He smiles. "Of course, I wouldn't miss it for the world."

She laughs. "I couldn't thank you enough for funding my paints and canvases, otherwise my illusions would still be sketchbook pages."

"Anything for the artist I am ever so enticed by," he took her hand. "After the showing, might I take you to Casablanca for the weekend?"

Olivia is the age of Manny's fatality, so now that would make Olivia two years shy of Manny. Joan never tells Olivia anything, he remains a cafe mystery only supporting his sweetheart - He's the familiar Gothic District to her dwindling Barcelona alleyways.

Olivia is pinup and whimsically wild west, everything Joan's series of ethnic charms could never be, she roots back to New Mexico, the land of enchantment. She runs her fingertips across her never ending lace of tattoos to Joan's question. "I need to think about that," she sighs twirling her long brunette hair, "I need to think about who I am right now."

"What do you mean?" Joan stutters.

"I'm a runaway, you know that!" She laughs. "Just to fall asleep in the roses of my childhood, thats all I ask for." She looks over her bare shoulder in the reflection of Plaza Mayor's clockwork. Joan didn't see the clockwork, he admires the bad girl doe eyes overlooking the ongoing street. The city decays in cinnamon sugar of cemeteries and promising desert secrets, her eyes willow into a playful sunset. New Mexico, a fable far too mystic for Joan Christo's wallflower wishes.

The tortoiseshell cat-eyes popped out from their case. She applies a dose of Mac's Russian Red, the wallflower wishes are tucked away in Joan's mind as Olivia kisses him goodbye, they part ways in veins of the curious dwindling city.

On April 16, Joan takes the risk to propose to Olivia in front of Manny's grave. April 16 is Manny's birthday and Joan had no intent to break his dead son's paper, if not moldy heart or to break his self promise to reveal the truth about Manny to Olivia. No, this was going to be romantic, in front of a little cherub statue lacing upon dead wisteria blossoms and dove feathers.


Olivia's intent is to paint the Geisha graveyard in watercolors, mirroring the Sakura blossoms and studying the water lilies. She doesn't mind the graves, Joan chases her through the wisteria blossoms in a fade he is dreaming, is this real or is this just another one of Manny's simplistic hauntings? He runs his fingers through the boas of lilac and white till he stumbles upon Manny's grave, tracing the youthful cherub's jade to feel the jawline of his son's doll face again. He trembles, he could smell fresh green tea brew again and across the mahogany coffee table, waiting for Manny.


"I'm fine Dad, really." He smiles over the steam. "I promise you I will not drink or smoke anything on this trip, believe me, this voyage isn't some Alice in Wonderland curse, those kids were made for fatality." He pours the tea and nudges the teacup across the table to Joan. "Drink up old man, you're getting wrinkles…"


He turns to find Olivia's shoulder pressing against his, sketching and studying the nameless cherub. "Am I getting wrinkles?" he stutters.


"Let me see…" Olivia bites down on her sapphire blue sketch pen and holds Joan's face close to her green eyes, she traces his cheekbones with her fingers. "Um, no!" She pushes him back and laughs. "You're a good looking man for your age Joan, you know that?" She pulls back the hair from her face. "This isn't a graveyard, it's a body garden. Where did you hear about this place?"


"Childhood." Joan shrugs and softly presses his back against the Cherub. "Where would you play when you were a girl?"


"Ugh, Mom always use to take us to Santa Fe but I wanted to venture further into Taos where I could see the haunted cemeteries." She looks off into the geode of tombstones. "Old Taos cemetery contains the legends; bandits, outlaws... Kit Carson, the wild west remedies."


"I'm sure those cemeteries aren't like my childhood cemetery." Joan jokes.


"I'm convinced they're not." Olivia smiles. She studies his arms, "You know you don't have wrinkles but you sure could use a tattoo, to look tough, like your stories."


Joan nearly swallows his throat. "My sailor days are far behind me, Olivia." he laughs.


"Oh come on, every sailor needs a marking."


"You know that I already have one." He rolls up his sleeve to reveal a little koi fish from his sailor days.


"I'm talking about a real one!" Olivia bubbly cocks her eyebrow with a playful smirk."You know theres a difference between graffiti and street art?"


Joan's wallflower wishes came about, he nearly trembles to the thought. "Alright, I give up for you…"


"We're going back to my dorm to design templates?" She grins.

"Yes," Joan bluntly says.


"Yes," she whispers a more lustful compromise.

"Yes!" Joan nods his head with wide eyes, anxious and shy.


The taxi ride to Olivia's dorms was frightening to Joan, because through the mirror he saw the glint of Manny starring back to him, asking in Spanish where to go? The moment Joan could feel himself pull up to a red building bubbling of smoking students and a galaxy of smiling faces, he throws the euros to the taxi driver and storms out, Olivia was admiring him too much to mind. The next task was to brush by the kids smoking on the patio, their faces all seemed too much like Joan's other kids, miscarriages or maybe theres are few in the mix that truly are his from close encounters. Olivia leads him to the foyer where a lobby crow curls over her boxed in desk, simply staring down Joan.


They take the stairs because the elevator is graced upon a lace of circuits, to the basement where it will snap and collide in a collection of pool noodles. The hallways are split in two and Olivia stays on the left wing room 505, she unlocks the door and lets Joan in.


"I'm the only one without a roommate so I get both rooms!" She points at another room separated by the bathroom. She unlocks the door to the main room, to show a gypsy getaway more than a whitewash dorm room. "I was voted best dorm room by the American, Spanish and German students." Cheek to cheek she gives an apple darling smile and sits at the edge of her bed. "Come here, touch this!" She calls to Joan.


Pouring over her hands, layers upon layers of brand new linen; bohemian ruffles, little bows, rose pink silk. Celeste fabrics in whimsical hues, Joan fell victim to the fingertips and she brushed his cheek against the satin. His lanky body crumbles next to Olivia as he melts by her bare shoulder. "Bella Notte Linens."


"I'll keep that in mind." Joan sighs. She laughs and wraps her arm around Joan, kissing him on the top of his head. "What am I here for again?" He literally catches himself from falling asleep.


"We're going to paint you!"

"Paint me?" Joan wakes up. "Olivia, this tattoo, what will it's purpose even be?"


"We can forget about the tattoo, I just wanted to take you home." She twirls around with a little wooden box, a henna kit. Joan nearly swallows his throat to her words, bashfully and anxiously he scoots closer to her.


"Pardon señorita-" Joan takes curiosity in the box.

"You'll see." She hushes him.

They're on the bed together again and Olivia asks Joan for his wrist. Cold crimson ooze rests upon his skin, he thinks of icing on a cake or chocolate decorating in Barcelona when he was a little boy. "This feels ... silly." Joan starts to tremble again.


"This looks silly doesn't it?" Olivia agrees with the discovery of henna. She's drawing a keyhole on Joan, framed in lace, inside the hole just a little poorly drawn teddy bear for no excuse, just to look cute. "Wait about an hour or so and then it starts to peel." She dabs a washcloth against Joan, to take away the debris.


"Peel?" Joan repeats. "This stuff is going to eat my skin away?"


She laughs and wraps her arms around him, "No Love, it stains your skin…" She kisses him on the cheek.


Joan straightens his back and holds her closer, he's simply in love with Olivia now and he knows she might love him back. Tranquility crawls up Joan's spine and guilty to think but Olivia could be the vandalism against Manny memories. Joan paints Olivia with ink because he doesn't have the stability to use henna. She teaches him how to paint a peacock feather on her thigh and when she draws him in. Suddenly there is no more bare shoulders, she's completely bare and he cannot remember the last time he has been naked for so long. Suddenly Joan felt the peace he lost when he was a little boy after being torn away from his young mother. He could feel loving roots at the palm of his hand again, and those palms happened to be covered in ink and henna. She's on his lap, they lace fingers and lock lips, for the first time in a long time through that kiss - Joan truly smiles.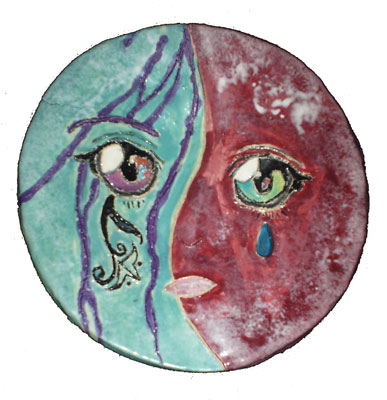 © Angel V., Tecumseh, MI