Abigail
November 13, 2012
Abby



She was quiet. I don't mean like nerd quiet, I mean like quiet by choice. Her voice was the most soothing thing anyone had ever heard. Assuming they had heard it at all. Nothing could compare to Abigail Jones Castice's voice. If you heard it once, everyone else's voice sounded like gravel under a car's tires. The teachers knew not to call on her, the students knew not to be partners with her, and even animals avoided Abby's voice. Except for me.

I was that kid who stared out the window, watching raindrops race down to the sill. Sometimes, out of boredom, I would name the little specs of water. In Chainsville, Texas, it never stopped raining. Scientists have tried to discover the reason, to give an explanation… But there was none. People around here say it's because it doesn't rain anywhere else in Texas. Others say it's because of the tears our ancestors shed on our soil.

The Castice family were good people in 1910. Kind, loving, and good neighbors. They saw the good in everyone. Then came Gregory. He was a big baby, healthy as a tree when he first came out. But he was dead silent. You could hear a flea sneeze in that hospital room. The boy grew up, never uttering a word. He could scream louder than a banshee, and cry harder than a tsunami; but the boy wouldn't say a word of English. Priests say the boy had an evil about him, that his red hair was a sign of the devil. Doctors begged to differ with their hypothesis about diseases or mental imperfections. Gregory heard everything they said, and he resented them all.

When Gregory was 28, he figured he would need a wife soon enough. He set out to meet someone, to try to make someone understand him. He met a woman whom he wrote letters to. She was the most important person in his life. It was love. One night, he held her close and uttered into her ear a single word.

"Love." To the woman is sounded like the tinkling of bells mixed with honey straight from a bees hive. The first time Gregory spoke was not wasted, not even for a second.

Two weeks later, Gregory received word that both his parents had died from some sort of freak accident. He was shocked. His folks had been the type to stay at home, to not be a nuisance from old age, and to relax in one another's company. Gregory and his wife boarded a train to Cainsville (Our towns name at the time) that very day.

The town was quiet. Gregory stood in the very center, the wind blowing his long black coat back, and dust making his eyes burn. But he didn't move. He stared straight ahead. Straight into the eyes of a killer by the name of Johnny.

Johnny was well known in big towns such as the one Gregory had been living in. Everyone knew he was an expert shot, and could kill any man. Gregory was struck with the idea that Johnny had killed his parents.

After cornering Johnny into an ally, his fears were confirmed. But it was not only his parents that had been shot down, it was his whole town. Every home, besides three, were empty. The three that remained were occupied by the children survivors. Enraged, Gregory cut down Johnny with a chainsaw he found in his father's basement. His closure was found, as was his sudden need to kill. Gregory Castice proceeded to kill all the children and his wife in a matter of hours. Cainsville was drenched in blood and shame. The governor of Texas named the town 'Chainsville.'

I don't like to think of Abby as a direct descendant of Gregory, especially since she's not. Gregory killed his wife, but his cousins lived on and had children. Abby is related, but not THAT related.

Yeah, sure, she's got red hair, and might not say a word, but I know she's not a true 'Gregory Castice' I just know.

I was thirteen when she first spoke to me. It was only one sentence, and she's spoken to me several times since, but it was the best experience I've ever had.

"Hello, Mike." She had said. It was so beautiful. I know you don't understand how a voice could be attractive, but you have never heard Abby's.


Abby's parents died four months after she spoke those words, and it shut her up for good. I'm the only person she'll say anything to. When I ask why, she tells me its 'Life and death'. Makes no sense? Yeah, I know.

Today however, her face seemed to hide a huge secret. I asked about it.

"What do you have planned?"

"Absolutely none of your business." She replied, smiling.

"You… smiled? Okay, you're freaking me out." I shook my head. Another student passed by us and Abby fell silent. When the threat was gone she looked to me again.

"You'll know when it's happening. Trust me. You'll know." Her smile was branded into my head. I shiver went down my spine as we went our separate ways.


The lunch bell rang loud through the hallways, and I marched to the lunchroom, laughing with my buddies. The intercom fuzzed to life and everyone stopped to listen.

"Mike," It was Abby's voice. My mouth dropped open. "I'm sorry; it's been in my destiny all along to do this. You must know, I may only talk to one person throughout my lifetime. And these words are at the expense of my parent's life. This is why my parents are dead. For every person that hears my voice, one relative shall die. The Castice family is in ruins. Once every Castice member is dead, people who hear it will begin to die." Abby's voice took on hysteria; she talked faster, her voice ringing in everyone's ears. "This is my curse! This is why I have remained silent! This is why you will all pay! Those looks you give me, the rumors about me, and the cold shoulders I must receive! I am Gregory's legacy! I will do what no Castice has ever done before!"

I blinked as the speaker went off. People started to murmur around me. To my left, Dorian, a good friend of mine, looked troubled.

"Dude, don't worry. She's just upset with her life, I think. No need to panic, I promise." I smiled warmly at him and clapped him on the back. He let out a nervous laugh.

Then came the first scream. A girl, some blonde named Stacy, dropped to the ground. Her hands clawed at her throat. Another boy stared, horrified. Then he was giving her CPR. But she just turned redder and redder. Finally she stopped moving. The boy started to cry and continued with hopeless CPR. Some other boys pulled him away, their faces solemn. Teachers were all around, yelling talking on phones, getting an ambulance to the fallen girl. But another scream echoed through the hallways. Everyone froze. Three more followed. Soon, kids were dropping like flies. Clutching their throats, turning blue, and then falling still. I couldn't comprehend what was happening. It was far too unreal. This stuff only happened in movies, high school kids didn't die for real. Ever.

"Mike," Dorian tapped my shoulder and I jumped. "Dude I'm really scared, what's happening?"

"I don't know man. We need to find Abby." I just kept shaking my head as the crowd surged around us.
"Yeah, she's probably in the-" Dorian stopped. His mouth kept moving, but no words came out. His eyes grew wide and he grabbed his throat.

"No," I said. "No, Dorian, don't."

His back hit the wall as he struggled for breath. His face was already red. I wanted to scream, but all I could do was stare. Wanting the whole nightmare to disappear. Finally his black eyes locked onto mine. The light in them was dimming. As he fell forward I caught him. When his body finally stopped moving, I set him face-down. I never wanted to see his eyes without light. Feeling a new sense of anger through my grief, I stood. Ignoring the water pouring down my cheeks, I walked straight for the office.
"Abby." I came into the room, stopping in the doorway. The girl was sitting in a red chair, and she swiveled it to face me.
"Mike, why are you-"
"Crying? Oh, I don't know. Maybe because you just KILLED my best friend!" A knot formed in my throat, a swallowed to keep from crying again.
"But I am your best friend. I am still alive. Why do you shed tears for me?" She cocked her perfect face to the left. So innocent. I didn't buy it for a second.
"No. These are not for you," I wiped my cheek with the back of my hand. "They're for all the people you've killed."
"Ah," She looked out the offices window and smiled at all the kids as they choked to death in front of one another. "Wonderful, isn't it?"
"I'm going to kill you." I said, my voice shaking. I had never really hated anyone before now. Maybe I thought I did, but no. This was hate. This was what made murder possible. Abby just shook her head and smiled.
"Yes, go ahead. I am the last Castice. I think I'd rather like to go now," She rummaged in her bag which had been hooked on the red chair. "Here, use this." She tossed me a small gun. I was more than shocked.
"But you-"
"DO IT. GO ON. Unless Dorian's death was fun for you to witness? Or maybe you're happy that all your friends are going to be dead, all your teachers, everyone. I bet you are! You're happy to be finally alone here, aren't you? Yes! You are, look at you-" The gun was louder than I expected. Abby dropped. I didn't feel anything for the girl. Outside, the screams were gone. I dropped the gun.
Outside, everyone was down. Unmoving. No police sirens could be heard. I knew everyone was dead. Maybe everyone in the town. I walked back to where Dorian was.
"Mike…?" I turned around faster than a whirlwind. Dorian wobbled on his feet, his eyes drowsy, like he'd been drugged. I just stared.
"Dorian? You… you were…" I shook my head. Out of the corner of my eye, I saw the blonde girl, Stacy, stand up shakily. The boy who had tried to save her before wrapped her into a big hug. Alive? How were they all alive?
"How…?" I stammered.
"Man, what happened?" Dorian's black eyes once again flitted around the room. The light in them was brighter than the sun. I grabbed him into a hug. Then, just as quickly, ran back to the office. But Abby's body was gone. Her backpack was gone, as were her glasses, which she'd set on the table next to the chair. The only thing that remained of Abby Castice was the gun that ended her life.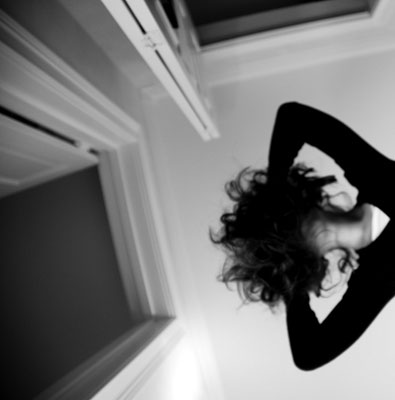 © Sarah M., Blairsville, PA