Alenah
October 26, 2012
My fingers wrap around the ice cold doorknob. As I begin to turn it, a voice catches me off guard. I spin around quickly, my eyes bolting in every direction, looking for the source. My sight decides the television screen is the culprit.

Four people in a room much similar to mine. The man with the deep, scratchy voice, like one of a smoker, comes bursting into the room. The man did his deed, and the screen went black.

A number appears on the television. The voice reads, '205'. Another room appears and a boy is in this room. In routine, the man does his horrid deed and the screen reappears to it's faded musky green- black color.
I examine the screen closer. April 16, 2013 is the date on the film. Today's date.
Number '206' is read. A girl about my age is there. She screams as the man comes upon her. This scream sounded close. Somewhere extremely too close for comfort.
Someone knocks on the door. Number '207' appears on the screen as I slowly back away from the door. The man explodes into the room, knocking me backwards. He regains steadiness and switches out the light.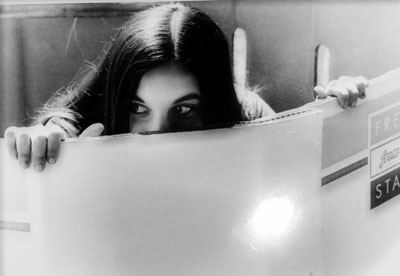 © Sarah S., Winter Park, FL