Bleeding Heart
October 15, 2012
Researchers' log
Unusual circumstances caused a chain of events to unfold during a man's imprisonment. Vital recording devises have been put in place to examine the progress and overall result of the subject.
Day 1

"Where am I, w…what is this chain," the man shouted upon waking in the baron room. "Excuse me is anyone there… hello," the man became frantic tugging at the chain hanging out of his chest.
Researchers' log

Yelling, the subject began to pull at the chain not grasping the concept that it was connected to his heart. Zero suicidal tendencies have yet to be observed so far as it is believed his ignorance leaves him in bliss.
Day 5

"Animals, how dare you hold me here? Bound by such un godly chains?" Cursing the nature of which he was bound, he began to pull the chain inching it out of his chest.
Researchers' log

Destruction of oneself is usually frowned upon; however, with this recent event unfolding before us we are overjoyed with the advancements thus far. Eventually this system could be put in place as there are currently high hopes for this project.
Day 10

"Fa...fa...Father…Mother I'm sorry, so sorry. God why did you die, why did you let me kill you? Help me please, just help me. I just need to end it I need your forgiveness." Just as the last words were uttered he gave a heart filled yank pulling the chain out considerable before passing out.
Researchers' log

Kids do not understand the hard work that was put into this experiment. Luckily the subject was unable to completely pull the chain from his chest. Managing this project could cause some problems if the subject keeps this up. Now that only a few days are left in this experiment I begin to wonder if the subject can pull through.
Day 14

"Oh, please forgive my sins as I have seen the evil that has befallen me. Please forgive all our sins as we are all evil."
Researchers' log

Questions have been asked and questions have been answered. Respectfully I can assure that the experiment was a complete success. Soon he will make a great addition to our team. This project will be remained as classified until farther notice.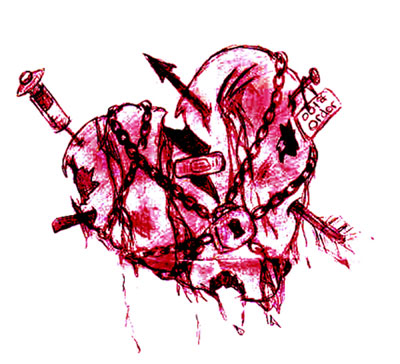 © Asia B., Hudson, MA