Monsters and High Heels
August 7, 2012
Here is a story, perhaps one of the shortest ever written, and one of the most difficult to forget. A woman is sitting in her old, shuttered house. She knows that she is alone in the whole world; every other thing is dead. As she sits in her lavish sofa with closed eyes, she remembers life before the apocalypse. Luella, as she was called, envisioned one diner she had attended when she was twenty five years old. It had been a glamorous gathering, with cognac and caviar. Around the table, six Mesdames occupied the seats. There was Priscilla, Gloria, Lorena, Leticia, Luisa, and of course, Luella. They would all talk about their fortunes and about future social events. But despite the glamour of the party diner, Luella felt chaos rise beneath her skin. Chaos, utter chaos, she felt! Her porcelain complexion and perfectly tinted lips masked the horrors of Luella's soul.



This degradation had started years before, patiently accumulating to erupt in a volatile explosion. She was nineteen when she debuted as a socialite by attending a masquerade party. For a year, she had enjoyed playing up to be an invincible woman, a desired object of affection, and a careless nihilist. She had never shown that she was human. When she had blown out the candles of her twentieth birthday cake, Luella wished for escape, escape from the madness of appearances and from pretention. However, she did not manage to completely brake free. The possibility of being left alone haunted her. Luella managed to cut off some poisoned companions from her life, but how could she eliminate everyone she knew from her life? She did not want to explore this option. So, Luella resigned to continue playing to be a doll. She continued to pretend to be happy with other madams that she knew only befriended her for their personal gain. Luella's bones started to ache beneath her artificial cover, slowly killing her good-heartedness. Luella, with the collaboration of society, had patiently transformed into a monster.



Luella continued remembering the ill-fated diner party. Just as all the maidens toasted for happiness, Luella let out a cry that echoed through the entire mansion. Her voice seemed to contain the voices of a hundred demons. All the ladies remained petrified and wonderstruck. Luella looked at them intensely. It had been the first time she had let her passion speak genuinely, without pretending, without hiding. She left the house without saying anything else.



Luella had gone to an abandoned house she dreamed of living ever since the start of her inner destruction. As she woke up the next morning, feeling more refreshed than ever, she looked into the window and saw smoke coming from a house in the horizon. She went to the mansion she had left the night before. As she stood before it, she witnessed how the flames consumed all the material. She heard cries coming from the inside of the mansion, asking for pity. Luella, controlled by her passions, looked with delight at the burning doll house.



As the years went on, Luella did feel free from the chains of pretention. She experienced a kind of bliss that did not seem to satisfy her. She was alone. She could not help but wonder if her revelation was worth the result. She did not have anyone to share life with. Luella had made herself believe that not having company did not matter because, in the end, the race was only with her. However, she continued to wonder about how life could have been if shared it with another person. But now, all was resolved in a series of nostalgia, insight, and solitude. What had she really fought for?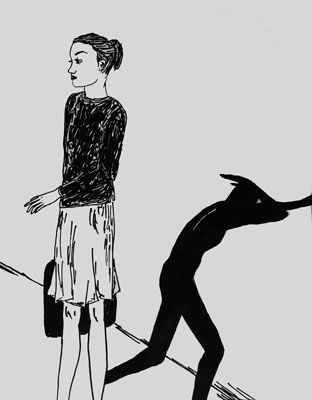 © Natalie D., Ames, IA