Hardly Familiar
June 26, 2012
She walked towards me with a slight swing in her step singing a song I often sang to myself. I started to singing along, trying not to make it noticeable. She smiled at me, and I realized she had heard. As she got closer I studied her nearly transparent blouse and her skirt that revealed a mile, it seemed, of tan leg. I found myself entering into a dream-like state as I imagined myself as her. I was so dreamy, in fact, that I didn't notice her standing directly in front of me until she spoke.
"Hey there. I don't know if you realized this, but we were singing the same song a few seconds ago." She smirked, aware that I did know.
"I..Uh.. It's my favorite song. I didn't realized that anybody else knew it."
"I saw you staring at me, you know..." She paused. "Do I look familiar? Is that what it is?"
"Well..." I stopped, about to tell her the truth. But then I took a good look at her again.
"Well yes, you do look sort of familiar to me. Hardly, though. I'm not quite sure why."
"Jamie, I am so much more than hardly familiar. I'm surprised you can't see it." She giggled and spoke again.
"They told you that you must stop seeing me. They told you it wasn't healthy. I thought I was a good friend to you."
"I.. I don't know what you're talking about. I don't understand how you know my name- but you have to leave now."
She smiled at me deviously.
"Jamie, Jamie, Jamie... I thought you were a smart girl. Our friendship is going to last forever. I'm not going anywhere this time. They can't make me leave."
Suddenly, a million flashbacks came rushing through my head... The hospital trips. The countless shots. The men holding me back, telling me no. The voices. The visions. It all came rushing back, making me sick to my stomach.

It wasn't until that moment that I realized that there was no girl standing in front of me. I had been standing alone.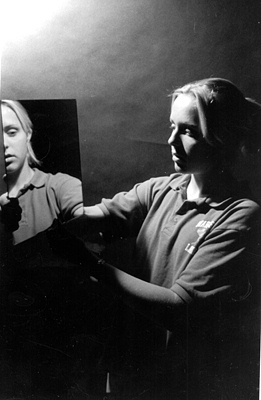 © Hadley B., Marblehead, MA