Paranoia
June 28, 2012
There once was a town located somewhere in England. The town was very peaceful and they were kind to one another. It had many superstitions including one involving the forest that was next to the town. The forest was rarely visited because it of its ominous trees and it was constantly covered in mist however the main reason was because it was rumored to be home of a werewolf.
One day a man entered the forest in search of his missing son, the villagers warned him not to go but he did not listen. The villagers waited for him to return but he never came back. Soon the villagers sent search parties in the hopes of finding him alive. A week after the search parties was sent they found his mutilated and decomposing body. The villagers were very distraught and mourned his death for months.
Soon the fear of the werewolf increased to the point where the villagers decided to burn down the forest. They searched the remains of the forest for the werewolf's corpse but they it was not found. This led them to believe one of their own was the werewolf. In fear they began to kill each other. Coworkers, neighbors, friends and family were not spared. The entire village became a battlefield of suspicion and distrust. In the end of the turmoil no one was left and the werewolf was never found.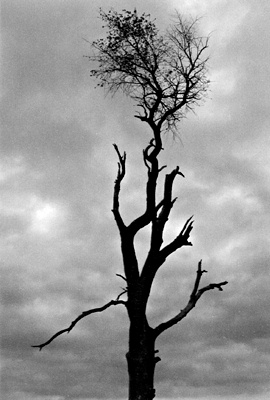 © Cassie H., Carmi, IL