Reminiscin
June 10, 2012
As an old lady stares at the dark sky, tears are slowly running down her cheeks. It seems like the sky sympathizes with her and it starts to drizzle. The old lady feels the water coming down from up above but she ignores it. The drizzle became a rain but still, the lady isn't moving. She just keeps on staring at the sky but this time she's crying. She can't fight her emotions anymore. She tried not to entertain it but tears are the heaviest thing. Its been 12 years when that incident happened. The lady can't forget it. Even until now, dark sky, drizzles and rain still reminds her of it.



1999, The Gonzales family was having their lunch. The weather outside wasn't good. Ana the loving mother of twins, Lance & Vince started to tell a story of their father who was a good pianist, but last April 26, 1997 their father died due to heart attack. The death of their father was unexpected and it broke Ana's heart. Now that she will raise her children by herself, she needs to be stronger. Ana never forgets to remind Lance and Vince to love each other.



The twins are close to each other since the day they were born, but that closeness started to fade as they grew up. The personalities of the two changed. Their likes and dislikes differed. Lance became more sociable, he was popular at their school but Vince chose to be quiet with limited friends. Everything was fine between the twins until they met this girl named Christine. They differ in all things but not this time. They both courted the girl since then, their relationship as twins weakened. Christine ended up with Lance. Ana noticed it and she tried to talk to Lance & Vince. The 2 reconciled for the sake of their mother.



But in the night of December 27, 1999 another argument arose between the twins. They argued about who owns the grand piano that their father left. Ana talked to the twins to clear things out, but it seems like Ana cannot control her sons anymore. The two scolded each other until they pushed and punched each other, until Vince poured his feelings and anger. He told them how much he envied Lance because he is the favorite and Christine chose him. They both get violent. Ana tried to stop the twins but they are uncontrollable finally they stopped and Vince walked away. Ana went to their room to get the first aid kit Lance was alone in the living room. A Few minutes later Vince came back holding their father's gun. He pointed it to Lance. Lance walked slowly backwards and tried to talk to Vince but Vince did not put down the gun. Lance ran towards the hallway. A few moments later Ana is crying the house was surrounded with the medical team and investigators. Blood filled the hallway.



The old lady was interrupted by a laughing man and they walked towards each other and walked together. On their way home they passed in the village's junk yard and saw a broken piano. The man cried when he saw it and the old lady namely Ana persuaded him to go home. When they were there the man is still crying. "Don't worry my dear Vince you were already forgiven"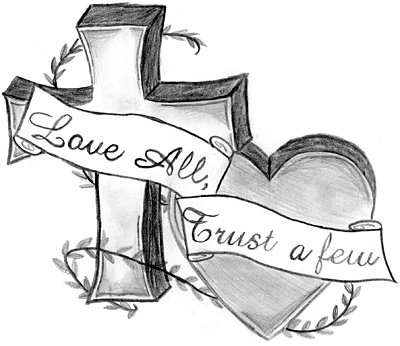 © Gina W., Glen Gardner, NJ