Dead Centered
June 19, 2012
The stale aroma of decaying flesh hung in the air like fog . The dark clouds opened and a bolt of white lightning shot out. Rain poured down in torrents, flooding the dead grass below.If there was any sound, it wasn't immediately apparent. In the midst of all of the chaotic weather, a single ray of sunlight beamed down onto the charcoal black casket. The casket itself was in less than perfect condition, bieng scratched and chipped on varius surface areas.
A trail of mourners sat in the front row, tissues in hand. Amongst them, were the mother and father of the deceased. They're two pail faces remained blank, but they're eyes told the dark story of the body that lay in the casket. The pastor spoke his final words and stared down at the mangled body of young Erik Carter, gazing out at each face to see if there was anyone who wanted to take a final look before he was buried in the ground. The two visibly shaken parents stood, and made they're way to the front. Tears streamed down the mother's face as she gripped her husband's arm tightly, the sight too much for her to bear.
"Its going to be alright now sweetheart." the middle aged man whispered, his voice so low even she had to move closer to hear.
"Stabbed to death in his own room, it's just so sad." the woman cried with a grin on her face.
"You want people to see that smirk?" the father asked, not able to hold back a slight smile himself.
" The boy is dead, it doesn't matter what people see me doing. All that matters is that now he's dead, and we have a hefty insurance check to pick up. Hmm, stabbed to death. You did a beautiful job honey." said the woman.
" No," said the man, his voice stern " WE did a beautiful job.".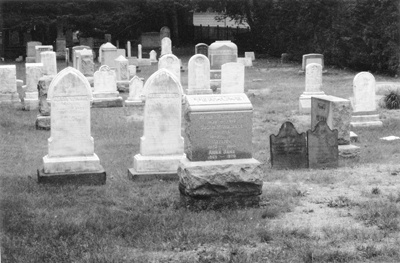 © Chris C., Pequannock, NJ