Trigger
June 1, 2012
She let the music take her away and let her feet move to the bass.

She come though the club,
lookin' for a good time.
Gonna make that,
shake that,
money on a dime.
Don't need a sugar daddy;
she can work it just fine.
Up on the table,
she'll be dancin' all night.

Those were her favorite lyrics. They described her perfectly. Independent, risque, and a wild child. It's like Christina Aguilera sang those words about her. This was her life: this club, performing every night, and the smell of alcohol and smoke.
Nothing compares.
After the song was over, she hoped off of the stage with a huge smile on her face and that high feeling she always got after performing...Then she saw her sister. Not that Baby didn't love Maurie, but it was just she always came with bad news. "That was the best performance I've ever seen you do."
"Thanks, Maur," Baby said. "So what are you doing here? You usually never stop by."
Maurie acted confused but then her expression went back to normal. Then she teared up.
"Jared's mom called. He o.d.-ed last night."
The next she knew, she was having a panic attack. NO, she thought. I've come too far. I can't start this again.
She tried to get her breathing in control.
"Baby, breathe. He was with Mark. They were doing meth and he had a seizure. Mark left him and he stopped breathing," she said.
Two seconds later, she was running out of the door. She caught a cab and was barely aware that she was headed to Mark's apartment.
The door was open.
She walked through the living room and saw him sleeping on the couch. She grabbed the gun that was lying on the coffee table, aimed it at his chest...and pulled the trigger.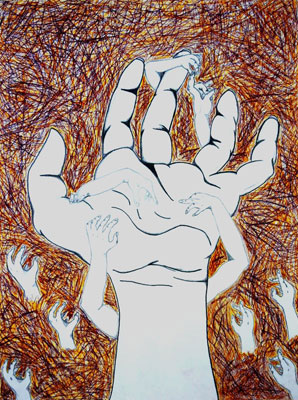 © Ariana R., New Orleans, LA