Secrets of a Pleasant Home (Fraction of Real Version)
June 4, 2012
There I took my last breath before they submerged my head into the murky water. But something in the back of my mind tells me this isn't just some ordinary murky water. I don't even think its water. Once inside it I didn't move because I didn't want whatever was inside this lake to be awakened from my rustle in the waves. Even though I didn't move, my body couldn't help itself from shaking like a wet cat. Every shiver down my spine made my heart want to jump out of my chest and sink to the bottom. I didn't know why I was here...but I was.

I looked around the surroundings that I did own. Nothing there but the green glare the water projected. Every blink I took made my eyes seem like they were being hauled down. I had to see who had me sinking down to die. I looked up at the surface. There I saw the culprit, I didn't see the face just a silhouette.
At this point I was running out of air in my lungs. But I had just enough to swim to the surface before I pass out. I began to propel up by kicking my legs and waving my arms. What seemed such a short distance, stretched into a mile long. I swam and I swam but it felt like I wasn't getting any distance. I couldn't get to the surface in time and I could feel my lungs shriveling up.
Then what seem so strange to me is that I started to cry, actual tears rolling down my pale cheeks! Then they fell off my face like I wasn't under this thick liquid. They fell off my face and fell into the black pit that was beneath me. Another strange thing about this place was the sound of water dropping onto the floor. What kind of place is this?
I ignored the laws of physics that were being broken. I continued to swim up to the surface. I managed to pull my body through the water and the closer I got to the surface, the harder my chest started to rattle with thumps that my heart was producing. Feet to inches away from the surface, I bit my bottom lip as I swung my arms harder and rapidly kicked my skinny legs. My teeth burrowed into the skin of my lip as I plunged through the surface and I shot into the air like a cannon.
Just as I got the highest I could go, I stopped right in mid air. This time my heart was beating so violently in my chest I thought I was actually going to die. My thoughts twisted and blended into panic. My eyes began to tear up as I was left there stuck. My frail wet body began to shiver out in the cold winds that were sweeping the thick white fog on the lakes surface.
I looked up at the sky where a face appears from the rolling clouds. There I stared at the face in confusion. It was a woman with dark brown hair. Her lips were pencil thin, and her skin was as pale as mine. Her green eyes were so beautiful; I began to become a little envious to her beauty. And in some kind of funny way I knew this woman. Her face just seemed so familiar to the eye. The woman also looked like she'd known me my whole thirteen years of life.
The woman reached her hand out for mine. I retaliated quickly by swinging my arm out for a grip. She leaned in closer just as I did. Our fingers wiggled as we reached for each other. Just when my middle finger touched her tips, I felt the grip of anti-gravity loosening. There I slipped back into gravity's pull. I assumed I'd just plummet back into the water where these strange events first occurred. But when I maneuvered my body to face the water, there was no water! Only grey concrete was beneath me now.
The speed of dropping from the sky to the ground was so intense. I could only see the ground as in spiral repeatedly. There was nothing I could do to save myself. I screamed out of panic. Here was my death. This is how I'm going to die. And no one could see me or hear the loud petrified screams I called out. Feet to inches away from the ground, tear drifted out my eyes as kept plunging to my death.
There I dropped. Just about as I slammed into the pavement… I jerked my neck up from my pillow.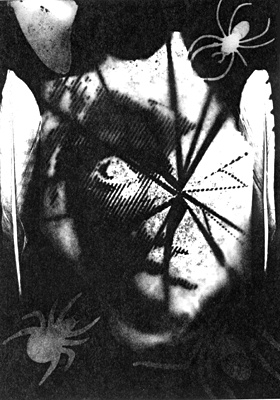 © Lindsey V., Aberdeen, SD