Free At Last
May 21, 2012
She had been in this horrible, somber room for too long. Of course she killed him, but she wanted out. One would not take this angel-faced socialite for a killer, but she undeniably slaughtered him four months ago.
It was time to go. She had picked her prey – the senile, nearly-deaf undertaker. She saw him twice a week, when they came back from dinner in the cafeteria. He was always meticulously cleaning his silver embalming instruments, placing them side by side on the steel table where the deceased lay. She sensed his vulnerability, perhaps it was his age or his demeanor.
She noticed everything about him, from his intense blue eyes under square brown frames to his perfectly polished brown dress shoes. He never noticed, so she never stopped staring through the circle of glass on the return trip to her cell.
*****
Every Tuesday and Friday, Walter saw her. He had come to know the time that she passed and her disheveled, curly black hair that appeared on the other side of the door. Next came her eyes, her haunting green eyes that bored into his back when he was preparing a body. He always knew that she was watching him, and for the past few months he had enjoyed the attention. Considering his age, he was more flattered than bothered by this curious patient. He even cleaned his instruments for her, and sometimes wore his best shoes, just because he knew that she would be watching.
*****
Eleanor laid on her cot, her mind twisting and turning. He would do it for her, and she knew exactly how to make him.
*****
The following Tuesday, there was no beautiful face to be seen staring in from the door. There was a note, however, enclosed in a standard white envelope. Adjusting his glasses, he read the elegant cursive request. A smile revealed itself for a moment, and then he threw the note into the incinerator.
*****
The tips of her petite toes made soft, miniature thuds as they pressed against the cold, white marble floor. The white gown floated and grazed lightly above her pale white ankles as she stealthily walked the route she knew so well. She was a creature of the night, with matches grasped tightly in her left hand and the red-tinted knife swinging joyfully in her right. Instead of staying outside of the room, she turned the handle and let herself in. She climbed into the casket, and laid herself down on top of the body.
*****
The last shovelfuls of dirt were packed onto the freshly dug grave, in the graveyard just outside of the asylum. Six feet under the worker's feet, Eleanor and the corpse lay together, waiting for him.
*****
In the silk-lined, mahogany casket, Eleanor awoke from her slumber. She slept peacefully, because she knew that she would soon be free of her confinement. "Walter should be here any minute," she thought to herself reassuringly, as she adjusted herself in the casket. When it seemed as though hours had passed, she grew tiresome and restless, and her sick mind prompted her to light one of the matches she had brought. Originally, the matches were for the journey six feet back up and into freedom. Now, they filled her with sheer despair and utter terror: closed lids covered intense blue eyes, surrounded by square brown frames and a cold, stiff face.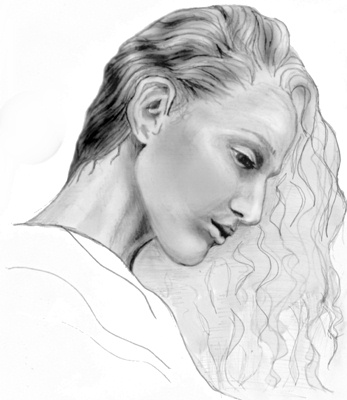 © Danielle H., Anchorage, AK