Her name was Kat
May 16, 2012
Her name was Kat, just some nothing kid for all anybody cared, leaning on the corner of a butcher shop in rural Colorado. She had some long scraggly hair, with it dangling past her ears. Little did anybody know that by the next day, Tuesday, she would have the entire Blood County after her. By Thursday, six surrounding counties and the Marine Corps Reserve. But she knew there was going to be trouble. Big trouble if someone didn't watch out. So she was standing there, leaning on one hip, sipping a coke and smoking a cigarette, thumb out, watching the cars go by her, waiting for a ride.
It reminded her of her time that she spent in her Hitler Youth. Watching the soldiers go by in their trucks. She was a secret. She was one of the few girls in the Hitler youth. She was a Sociopath. Incurable. She loved to kill, to dissect, to torture. She was taught by another sociopath, her father. Her fathers name was forever in Nazi history as the most ruthless. He was worst then Hitler himself. He was, Sebastian Rictofen. They were both sadistic.
She saw this police car swerve out of traffic and slowly approach her. "My god not this time. After thirty two towns and fifteen states I will not be pushed again, not this time." She murmured to herself. The cruiser pulled up. "Well what are you standing there for? Get in" the cop yelled to her. But she gave him a dull look while he gave her a one over, noticing her pail blue dress. "Come on get in before you make me sore". He told her.
But she just stood there and stared at him. "Don't stare at me" he told her. She ignored him and kept staring, noticing his badge. "I told you stop staring at me, I don't like being stared at." He told her. "Who does?" she replied.
She got in the cruiser. "How long were you waiting?" he asked. "A few hours since I came." She replied dully. "You could have been waiting longer. People around here don't like it when people come in here looking like you." He said. "Looking like me?" she said as she flashed him a smile. "Yes, even though you may seem sweet and nice on the outside, people still won't pick you up. It's against the law." He replied.
"Some one picks up someone off the road and they get murdered or robbed or kidnapped?" She asked. "Yes you seem to get the point." He replied calmly "well not me, I'm not like that, I wont rob you or any of that." She stated. "That's funny, in case you didn't notice; I'm the chief of police. Now close your door." He told her.
She took a long drag from her cigarette and threw it out onto the ground and thought "I can't even fathom why I lit that, I gave up smoking years ago." And closed the door. "Tenn is my name, Robert Tenn." He said with his hand outstretched. "Forgive me if I don't shake hands." She told him with a blunt look on her face. Tenn looked away, embarrassed.
"Here we have Main Street, if you look over there that's the church, and over there is the drive in with all those snot nosed brats and there's the police station. She's small but she does well. Used to be the old church." He explained. "Where you headed?" he asked.
"Maybe Denver"
"And maybe not"
"Smart man"
"Of course I am"
They rolled up to a bridge and he dropped her off by a sign reading. "YOU ARE NOW LEAVING BLOOD COUNTY"
"Take care now" he said. "And stay out of trouble?" she added. "Isn't that how it goes?" "Yes, it seems you have been down this road before" Tenn replied. He said that as a statement and not a question and she noted that. "Take care" Tenn said. "I'll be seeing you." She stated. "I don't think so." Tenn told her, mumbling partly. Then Tenn proceeded on a little farther down the road, and turned left. She threw the bottle of coke down into the ditch, not bothering to finish it. And proceeded back to town, with the intent of murder.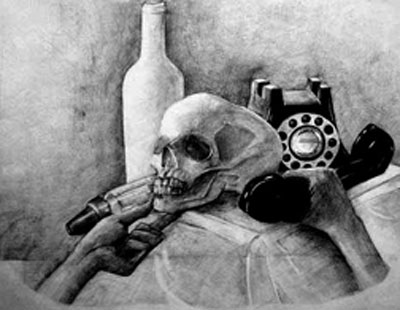 © Xiao H., Naperville, IL