Reverse Watch
May 10, 2012
"Happy 7th Birthday Vivian!" everybody said. Vivian Volkoff loved her birthday. It was one of the few days that she could hang out with her mom the entire day. Her mom was a very busy woman with a very successful furniture company called AEKI. Her mom was her best friend and she only could get to see early in the morning and late at night.
While her family enjoyed the birthday party they threw for her, she sat in front of the front door waiting for her mother to arrive. She saw the red jeep from the distance. She jumped from the floor and waved. Her mom waved back.
Vivian saw another thing on the car, A DOG. Vivian always told her mom that she wanted a dog for her birthday. She was one block away. Vivian smiled with joy at her mom from the distance but Vivian saw what her mother couldn't, the garbage truck was coming. Fast.
Vivian tried to warn her but it was too late. The truck dived trough the jeep. She saw her mother's face one more last time in the middle of the street before she closed her eyes.

10 Years Later.

"Happy 17th Birthday Viv!" her friends shouted when she entered the classroom. She gave a weak smile back at them and they knew the reason why. They mostly tried to distract her of remembering what happened 10 years ago. That's why Vivian, or Viv like her friends called her, hated her birthday.
That morning her father woke her up nicely with a cool breakfast on bed. She loved breakfast at bed just like her mother used to. Her father has been depressed this day for the past 10 years but he tried not to demonstrate it in front of Viv. Beside her bacon and eggs was a little gift wrapped box. She opens the little box with curiosity; she found a nice, shiny, gold watch with a text engraved to it that read "Vivian V." She thanked her father and finished her breakfast.
Viv tried most to concentrate at school, not thinking about that awful memory. The bell rang at 11:30 and it was lunch time. Her friends sang to her at lunch with a birthday cake they bought. In that moment she was happy, she forgot all about the accident and focused on her. It was her 17th birthday and she though she could at least enjoy a bit.
As Viv enjoyed her beautiful big cake, people taped her on the shoulder to congratulate her making her drop a bit of icing on her shirt. She lived trough out the whole day happy on one of her birthdays. That night she got invited to a party their friends were throwing for her. She got to enjoy her big awesome party at a night club with her friends. A little too much I would say. She got drunk because she had been drinking too much. They began to party in the street when she suddenly fell and bumped her head with the sidewalk. Everything went black.
She woke up in the morning in the middle of sidewalk.
She took a moment to realize where she was.
She saw people walking around her but something wasn't right, people were walking backwards and fast.
She looked up to the sky and saw the sun moving from west to east.
She saw a car from the distance but it was going on full-speed reverse.
Viv looked desperate, trying to contact people that walked backwards ignoring her. She was wearing her school uniform with that icing stain on her belly, the clock read 12:00 but time was going back, fast. Time was passing twice as fast, 15 minutes later of her hitting and pinching herself to wake her up, the icing on the shirt disappear. Then, she understood. She was reliving her life but backwards.
There was something weird that she noticed, the clock didn't disappear when its time came. One of the golden crowns on the clock was shining. She turned the knob with curiosity and suddenly she went further backwards in time.
She stopped turning the knob in shock.
Viv looked up to the electronic billboard that read "July 22. 2011 2:53 PM". She has gone back half a year! She tried again but this time she didn't stopped spinning for a whole minute. When she stopped spinning, she looked up to the billboard that wasn't there yet, but there was something wrong with her. She was smaller. She went to when she was 7 years old, but she recognizes something she was wearing, the dress that she wore to her mother's funeral!
It was one day after her birthday, she stilled had time to save her mother. She ran to her house that wasn't that far from the street she had been standing for years. When Vivian got to her street, she saw her mother's red jeep destroyed. She waited the whole 12 hours of the day sitting on the sidewalk where nobody noticed her.
The big truck suddenly came and was placed on his crashing spot. She stood up and waited. She watched herself crying to the red jeep and running back like nothing happened. She saw the whole accident unhappened. Tears fell from her eyes as she saw the reversed accident. She ran to the street that the truck was supposed to be coming in 1 and half minute and dump a trash can in the middle of the street. She hoped that would stop the truck that was coming in 2 minutes.
She smiled at accomplishment but suddenly everything went black. She opened her eyes and woke up in the sidewalk she stood for years, just that there she was. Viv woke up to be just her 17 year old self. Everything seemed normal to her. She walked home crying, she thought that she saved her mother but it was all a lie. She saw on her way Mrs. Bartowski cleaning her garden which she never did, something was different. She didn't know what it was but she knew it. When she tapped on the door to be opened, someone she hasn't seen in 10 years open the door.
"Vivian, where have you been?" cried her mother.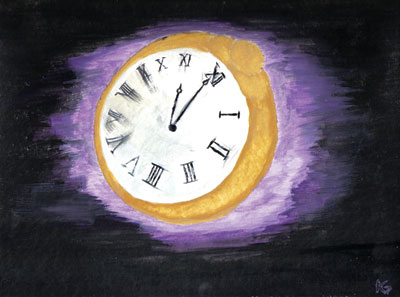 © Kyle G., Clarksville, TN