HandHeld Savior
May 10, 2012
I jumped as far away from the beast as I could. It was my first year at Halloween




Horror Nights, and it was just my sister and I. It had been an eventful night




so far, but there was just enough time left for us to see the parade. We slowly made




our way to the side of the path so we could have a decent view. As I looked around, I




noticed how horrifying yet amazing everything was set up. The whole theme seemed




to be flawless. I caught myself staring at a goblin in metallic armor. It looked so




realistic it was scary. Shirin then muttered something in my ear and quickly walked




away. Still in a trance, all I could think to say was, "Yeah, whatever." Suddenly




I heard a loud scraping noise behind me, and I jumped. As I regained my focus, I




finally realized that Shirin had left. I was too distracted to remember where she said she




was going or what she was going for. Trumpets blared out of the crowd, an army of the




dead emerged from the darkness like a murder of crows; the parade was beginning. I




took my mind off Shirin for the time being so that I could enjoy the parade. The lights




flickered in my eyes, the dead shuffled along to a solemn beat, and a wave of darkness




followed wherever they led. As the parade came to an end I decided to seek my sister out,




wherever she may be. As I searched throughout the side gift shops and restaurants, I




started to feel uneasy. "What if I can't find her? She's lost! I'm lost!" seemed to scream




through my mind. I timidly made my way into a t-shirt shop to calm myself down. I




would never be able to find her in a crowd so large. Looking out of the doorway, I




jumped as another monster lunged at me from the shadows. "That didn't help." I thought




to myself after the creature had shambled off. Nervously, I walked around, pacing and




wondering what to do. I sat down on a curb and tried to think clearly. Then it hit me.




My cell phone was in my pocket the whole time! As I whipped it open, I was relieved to




see that I had six missed calls from Shirin. I chuckled to myself for being so worried.




Shortly after returning her call, I saw her shuffling toward me with a humongous turkey




leg. It seems her appetite had gotten the best of her. We exchanged stories and made our




way to the exit. An hour wasted, just because my cell phone was on silent.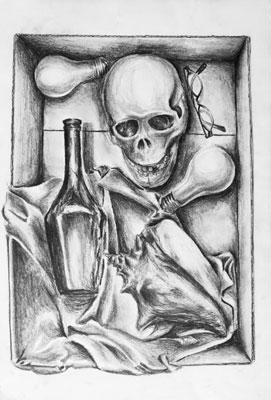 © Karen S., Norwalk, CT