Jack and Jill
April 10, 2012
Jill. The girl of my dreams. I was going to take her up to the hill today to see the old castle ruins. With the German trenches coming closer every day, Britain's beauty and glory would soon be non- existent.

"Come on, Jill! Keep up!" I called playfully over my shoulder. The sun glistened on her flowing hair. I reached out and she grasped my hand. We both turned and ran playfully over the crest of the hill. A morbid stench hung thick in the air. Then we saw it.

The Germans had built their trenches overnight, and as we stood there, hand in hand, we loomed over the awaiting soldiers. Blimps were being launched in the distance. There was no hiding; we were already seen.

A foreign command was shouted, followed by deafening bangs. A sudden explosive pain took me to the soft grass, and I saw horror infect Jill's face as I rolled down the hill.

Then she was hit. The bullet pierced her skull, causing instant death, and her limp body tumbled down after me. When our bodies hit, she still had a look of horror plastered on her face. The red was spreading across my body.

That is the last I remembered. Now, I'm in a hospital. There is no Jill, only dying soldiers.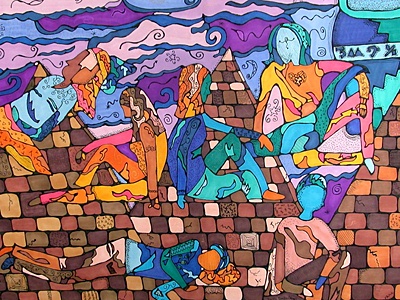 © Katie V., Gainesville, GA