The Rose House
April 1, 2012
It was a cold December night. A strange stillness echoed through the Rose House. The next morning, the owner of the Rose House, old Lady Georgiana, was found dead in her bedroom. Detective Doyle absolutely didn't understand why he had to investigate this case. It was obvious that eighty-two year old women could die at any time from natural causes, which was the circle of life. Sure, there were some suspects. Suspect number one was her maid, Emma Graham. She could have slipped some deadly poison in Lady Georgiana's daily medicine, but Detective Doyle saw no motivation. Emma was satisfied with the job she had for sixteen years, and she and Lady Georgiana were very close. Suspect number two was the sixty-three year old butler, Mr. Parker. He was also the gardener and the driver. Lady Georgiana hadn't raised his salary for three years. Detective Doyle was tired of all this. He sometimes regretted becoming a detective. The agency didn't pay him much. The third suspect was the cook. Oh, he had a knife and everything. This was getting nowhere. Detective Doyle went into Lady Georgiana's gigantic bedroom. She was impressively rich. The king-sized bed didn't look king-sized in her room. Marble floors, high ceiling, and expensive looking furniture reminded the detective how rich she really was. The suspects could have killed her for her money.
A few days later, her will was announced and the lucky one to inherit all this was…her cat. She gave all her fortune to her old black cat. Lady Georgiana had a son named William, a man of fifty-one. It was ridiculous that she did not pass her beloved fortune to her only son.
The coroner called Detective Doyle and said that Lady Georgiana was very healthy in spite of her age, and there were no signs of forcible entry into the house. He said that he noticed that Lady Georgiana had sleep apnea which might have caused a chemical reaction with some other medicine she took.
Ms. Graham told Detective Doyle that she remembered that William came to see his mom the night before her death. Now, they had suspect number four. Not long after that, the lawyer of Lady Georgiana called and told Detective Doyle that her will had been changed just a night before her death. Now the detective was getting somewhere.
The cook said that he heard a loud argument the night before Lady Georgiana died, and William stomped out of the room after yelling loudly at his mother. The cook was very worried about William's condition. He had trouble with liquor after his wife died. Mr. Parker said that he drove William to his house and he was pretty intoxicated that night, too. All the clues pointed in one direction. It was William's turn to be questioned.
Detective Doyle's theory was that William, who had been drinking, killed his mother because he was mad that she threatened to change her will if he wouldn't quit drinking. If Detective Doyle's suspicion was correct, William killed her not realizing she had already changed her will.
The suspect number four came to Detective Doyle's office for interrogation. His eyes were bloodshot. Clearly, he was experiencing regret.
"Didn't get much sleep last night?" Detective Doyle asked William.
"My mother passed away yesterday." William said as if he wanted to kill the person who killed Lady Georgiana.
"You sound really sad." The detective was surprised. If he was acting, he was really good.
"Do I? Maybe it's because my mother died yesterday!" William sounded as if he was in agony. Now the detective was really confused. William didn't look guilty. He just looked sad. The lie detector diagnosed that William was telling only the truth.
The flu was going around and Detective Doyle wasn't so lucky. He went to the pharmacy to buy some cough syrup. He remembered that Lady Georgiana had sleep apnea and asked about it.
"Oh, sleep apnea is a terrible disease. Any medicine that contains Codeine might cause death to a sleep apnea patient," the pharmacist said. "If you have sleep apnea, do not take that cough syrup, it contains a lot of codeine."
A bell rang inside Detective Doyle's head. The person who could have made this mistake was the maid, Ms. Graham. She must have given Lady Georgiana some cough syrup with her tea, unaware of the fact that it could kill Lady Georgiana.
They went to the court, and Ms. Graham had to pay for what she had done, even if she didn't mean to kill her. The judge declared her guilty and she received a three month sentence. Poor Ms. Graham. She didn't know a thing about what she was doing.
After three months, Emma Graham picked up the cat from William's place, and left England shortly after selling the Rose House. Poor Detective Doyle missed one fact. Emma Graham was the legal guardian of the cat that inherited everything.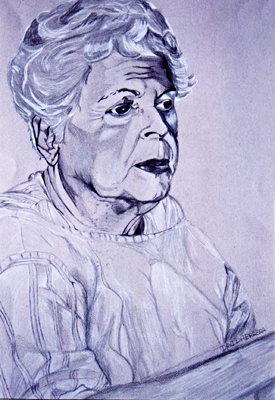 © David H., Kannapolis, NC