The Beginning of The Night I almost Died
March 21, 2012
Waking up in the middle of the night because of a weird dream confused 'cause when I went to sleep all lights were off now they're on I'm home alone…or so I thought that I was…Until I heard a loud sound It scared me but only for a minute… when I came out of shock I realized that I was going to have to go and see what the noise was and who created it. Swallowing Fears I got out of bed turned on my room light and checked my room thoroughly before leaving. I opened my room door and it creaked loudly. I poked my head out the door to look up the hall before going down the stairs. As I walked down the stairs I thought of things that would help calm me down at the same time hoping that nothing was missing, broken, and hoping that there was nobody in my house waiting to do something drastic to me. As I walked in the living room everything seemed normal until I heard the plates crashing in the kitchen. I moved slowly through the dining room making sure I didn't make a sound. I looked around the corner and saw a manly figure standing in front of silver ware drawer with a black ski mask on covering his whole face. As I tried to turn and run out of the house I stumbled and fell to the floor with a loud 'THUD'. There was no doubt in my mind that the man had heard me fall flat on my face. I heard the drawer open and slam shut. Before I could gather myself off the floor the mysterious man was holding me by my hair. He said "Scream and die." So I stayed quiet….until he went back into the kitchen to grab some rope to tie me up. I ran outside and for the slightest moment I thought I was free until I was swept off my feet and carried back into my house. I was kicking and screaming hoping that I was tiring him out sadly it just made him even madder. When he finally put me down I was out of breath, there was a deep cut on my face oozing blood, and when I realized what was in his hand instead of the rope it felt like my heart dropped down into my stomach.
"Are you going to kill me," I asked the tall figure standing in front of me.
No answer.
"What do you want from me," I asked another question.
Still no answer.
The man walked back towards the kitchen but before he reached the door he turned to me and said "Now we're going to try this again, and this time don't move." I nodded my head three times and he walked off into the kitchen. More rambling, crashing, and throwing. He returned into the dining room with duct tape and rope told me to stay still and I just might live. I did as he said and sat there and waited until he was done tying me up. He disappeared into the kitchen and then there was silence…….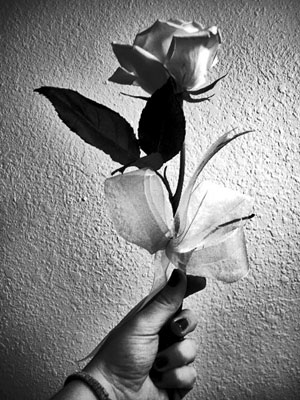 © Lauren R., Edmond, OK