Clipped Wings
March 20, 2012
You told me that my name was Crystal. Not like the gem, but the drug. Because I was addictive, every man's fantasy, I was everything their wives weren't. I met you in the book store, in the classic section to be exact. You bumped into me causing my books to crash to the floor, you apologized excessively, and helped me gather my books as you rushed away. I saw you again in the coffee shop. You noticed my books, and told me how much you adored Emily Dickinson. You told me that her works beauty rivaled the blooming spring flowers. We talked for hours, you asked me to wait for you as you went to pick up your coffee. A sensation arose from behind my navel, it seemed to be pulling me away from the couch where we sat. But I didn't listen. When you returned you had brought me a candy bar. As an old habit from my childhood, I slyly looked for tears. When satisfied, I thanked you. The silky crunchy candy had a foreign tang to it, but again I paid no mind. I thanked you for buying me such a treat. You smiled at me, a different crooked smile; almost wicked. It was unlike the smiles I saw hours ago. Something deep inside me, begged me to run. I opened my mouth to give my leave, but the words where jumbled and shallow. My feet wouldn't move and my face grew numb. I didn't understand why my body wouldn't respond. That is, until and empty syringe fell out of your jacket pocket. I remember you putting sunglasses on me, takeing me by the arm and walking me out to your car. You tied my hands to the door handle. Pixilated scenes zoomed past the car, it was beautiful, all the new colors. Colors I never knew existed. I remember struggling to keep my eyes open, I wasn't going to let my guard down again. But it was no use, I slipped away into a drug induced sleep. When I woke up it was as if I had no body, I was completely numb, from the crown of my head to the tips of my toes. I counted four tubes in my arms, slowly addicting my seventeen year old body to what would become my name. Every now and then for the next three weeks, the other girls would come to my room and give me tasteless food and ice cubes. "So you don't gain anymore weight," they said. Supposedly, it was so I could fit into my uniform.
The day had finally come, I was ready to "scout". You taught me how to walk, talk and stand while waiting for a client. "Balance all your weight on one leg," you said, "Pop out your hip and push your chest forward. Show off your neck, you have a good neck" it seemed all to natural, posing this way. The waiting seemed endless, hours ticked by but no one came. I knew you would be cross with me if you discovered I made no money tonight. Three hours later, I am still alone, in an empty room. One bed, one door and bars on both windows. As I waited, it seems my hands were contorted, becoming the color of the setting sun, feathers sprouting from each spot on my freckled arm until I had wings, mouth elongating into a sharp pointed beak. I was a bird, with clipped wings. Escaping was not an option. Savior, was a word so foreign, I could barley pronounce it. Then a knock on the door jolted me out of my drug induced hallucination. I waited and spoke a softly "come in." A man, that could pass for my father walked in and shut the door behind him. He took seat next to me on the bed. He said nothing he just stared. I knew what he wanted, you had told me what they all wanted. So I did what taught. I unbuttoned his collar, but he grabbed my wrist firmly and looked at me, still not a word. As the moments passed, he finally spoke. "How old are you? What's your name?" Frustrated I stood up stumbling over my own clear stilettos and said, "Look pal, you're wasting my time. I'm not hear to talk. Now pay up and leave." He looked at me in awe, "What is your real name?" he asked, he looked as if he was in pain. What did he know about pain? I spoke up finally surprised at how my voice had changed, it sounded cowardly and weak. Just like you had made me. "My real name is Emily Whitley, my stage name is Crystal, I'm seventeen." Again he reverted to not speaking, he just took out a pad of paper and a pen from his pocket and jotted down notes. There was a symbol on the back of the pad, but I couldn't make it out. Anger boiled up inside me like a swarm of bees. "What do you want from me!" I yelled, tears streaming down my face. He looked up at me and held up the front of the pad. My eyes widened and I dropped to my knees and proceeded to sob.
"I'm here to take you home" he said in a low soft voice. He dropped the pad on the floor and he helped me to my feet. The sun from the barred windows set on the shinning silver badge. A badge I will no longer fear when I'm speeding, but, thankful for saving my life.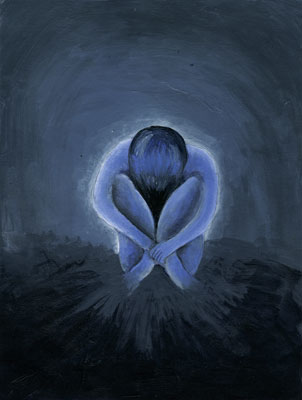 © Becky F., Sacramento, CA