The Demon Girl
March 7, 2012
"Daddy, Daddy!" the sweetest looking little girl bellowed. She had the cutest little yellow dress and the largest brown eyes ever. Her long brown hair flowed in the wind as she ran into Tom to embrace him in a hug.
"Yes sweetie?" asked Tom as he put is tools down and bent over awaiting the impact of her hug.
"It's time!!" she said as her voice grew deeper and her grip grew more intense along his shoulder. While, her eyes turning a dark, ungodly yellow.
His smile still present he asked, "Why now? When it's bright and sunny outside? Why?" He then hesitated to say his next few words. "I refuse to do these evil deeds any longer. I'm sorry Ali, but this must stop."
This was mistake number one.
An elfish smile broadened across her face, as her eyes changed back to their usual large brown. Her grip loosened.
"Okay daddy! Can we go home now? I'm tired."
"Okay." Tom said grinning while placing Ali upon his shoulders.
"Aren't you tired daddy? Gonna take a nap?"
Yawning, "Yeah, a nap sounds good."
When they got home it was benighted outside they lived on the outskirts of town in a dingy, old, decrepited barn. The paint peeling and the shutters where falling off their hingess. This was perfect. Why? Because no one would suspect a thing.
A couple minutes after walking through the door tom collapsed on the couch. This was mistake number two. Ali then took it upon herself to climb the walls like a monkey, until she found a spot fairly close to Tom and sat down.
She started chanting, "Oh – a – voh- say!" repeatedly as her eyes rooled backwards. She then levitated into the air as a suddend gust of wind roared through the room causing her hair to flare like flames.
Then he awoke. His mind was at rest while his body was in motion. That night he waited for his kill in a dark solitary alley-way just outside a club. Minutes later a tall blonde figure fumbled out the back door. Her ignorance that night would cost her her life, and she would never get a refund.
The next day Tom awoke on the couch. But on the floor next to him was a still, lifeless body of a young blonde girl. Blood stained the walls and Ali's yellow dress.
Ali sheepishly looked at him and asked, "Have a nice nap daddy?"
A look of terror filled his eyes. He ran. That was mistake number three, he was out. He at least attempted to run, but didn't get too far before Ali pounced onto him and … well you get the rest.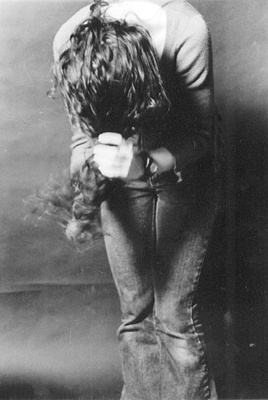 © Cerys W., Marblehead, MA