Lyrical Breakdown
January 22, 2012
I could see the horizon on either side of me. The sky was stretched, almost suffocating, yet open, and tangiable. The sand was alive, as were the waves. The water was smooth, and the river-dance played with the sunlight. The clouds were insubstantial and the sun was white. The sand gave way beneath my feet.

My name is Naomi Fiord. A little bird told me to come here.

There was something about the sand. That was the first thing I noticed. Each grain was big, and glass-like. It was the prettiest shade of yellow possible. Yet, it was pink, green and transparent all at the same time. This was familiar.

Suddenly, I closed my eyes, and felt a deep sense of déjà vu empower me. September 2005: I'd been here once before. This was what I had been looking for, for some time now. The picture was becoming clearer: My brother and I were at the beach.

Sand castles and sea shells,
the ebb and flow of the sea.
The curved shells of playful porpoises,
like waves that break over rocks.
Footprints of a million people,
the empty tousled sheets of sand,
That hide a locked ocean,
in front of a stoic sun.
Brother-and-sister walk along the coast,
to find what sets them free.
Our footprints in the sand last,
until they meet the sea.

My best friend, He watched over me He knew exactly what to say to me when I was sad, or upset.. He loved teasing me, but he always stood up for me. His name was Joey Fiord. He was eighteen, and would forever be

He was two years older than me, before Fate thought that I was too happy. He was protective and obsessive, and I was his little sister. I was calmed by his very presence. I still think about him, I dream about him all the time.

A bucket of water awoke me. Or so it felt. The tide was rising, and water was just feet from where my head lay. I shuddered involuntarily. It was all just a dream. There was no one named Joey. With a sinking heart, I realized that there was no one like him either.

The sun mixed with the sea and created smudges of purples, oranges and browns. I sat perfectly still. The red from the sun in the water played with my subconscious.

That night, I saw him. I swear I did.

The sand was on my skin and in my hair. I felt clammy and cold, and this wasn't entirely because of the weather. Green: It dredged up from my memory and swam in front of my eyes. Yes, the green sarong. We were here, I don't remember why. We played with the sea-glass. We fiddled with the sand, just like how we used to when we were little. Next thing I know, we're on a boat. I was dreaming with my eyes open, Jo-bro next to me. The stars were undistinguishable on that crepuscular night.

I didn't think of it as much when he jumped off the boat. He swam infrequently, though he did this frequently. I was looking at the sky. He was splashing water at me. The sky slowly shattered into thousands of clouds. I should have seen it coming. He was above the water. Only later did I find out how dangerous what I did next was. I'm not particularly pragmatic in the worst of situations. I jumped in. Soon, panic began to set in, and I could feel the first waves of paranoia.

The water was relatively shallow. It was when I saw the first wisp of red that I began to scream. I was breathless, dizzy and in shock. It kills me to say that I did not bring my brother back. I thrashed my way back to the shore, and sat as far away from the water as I could. I spent the night screaming. The lightning that killed my brother was all around me. I didn't care. I was cold. I don't think I slept that night.

My memory stops here. The wind was harsh. I wrapped myself in my arms and waited. I did nothing and thought of nothing. Suddenly, I got up and walked away, my green sarong flapping in the wind, reeling at the thought of what had happened the previous night.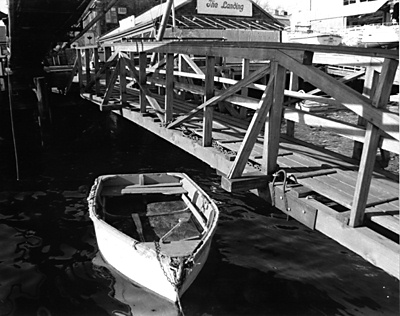 © Megan S., Marblehead, MA