The Forgotten One.
December 31, 2011
She sat perched at the top of the birch tree, waiting, watching. She had her orders, and was determined to carry them out. When she started working for The Guy, her notorious and unseen boss, she knew she would have to do this a lot. She was good at it. Sometimes she couldn't help but wonder: What about family, a life, friends? What about happiness? Not only for her, but for the people whose lives she stole. She fell asleep thinking about the things that could have been.
The low rumble of a motor awoke her from her unhappy dreams. They had arrived. She slowly craned her neck around the large branch that was supporting her--she yearned to see his face. Unfortunately, the glaring sun and the baseball cap that dipped low over his eyes made getting a clear look impossible. She would have to do her job without knowing; perhaps it was for the best. 
She waited for three hours, until it was just the boy alone in the house. She knew the others wouldn't be back that night. They never were before sunrise. In another fifteen minutes, the boy had gone out to the side of the house to jump on the trampoline. The girl couldn't shoot him from that angle, so instead she pondered the idea of a trampoline. She had never been on one, and wondered what one felt like. After what felt like hours but was really only minutes, the boy got bored and went around to the front to throw a basketball at the garage door. Her chance. She got her gun ready, took aim...and sneezed. It was such a powerful sneeze that it shook the whole tree. The boy quickly looked up at the giant birch. The girl couldn't see him, but she held perfectly still, unbreathing, in case he could see her, until she again heard the repetitive sound of the basketball. She got back in position and took a long, slow breath. She mustn't let that happen again, or she would be killed. 
Just as before, she brought her gun to her shoulder, took a steady aim, and, with a practiced finger, pulled the trigger. 
Dammit, what was wrong with her? She had aimed at the back of the head, but the bullet hit him right below his shoulder blade. He wasn't dead. Yet. 
She swung down from the tree within minutes, swinging from the branches and shimmying down the wide trunk. As she hurried over to the boy, a series of regretful thoughts filled her head. She had never felt as bad for a victim as she did now. Something just felt wrong. 
When she reached the boy, the smell of blood overwhelmed her. She had never been this close before. The boy lay face down, surrounded by a pool of blood that was rapidly expanding across the blacktop. His hat had fallen off and was resting a couple feet away. The girl took a deep breath--something the boy was struggling to do--and gingerly turned him over.
She gasped. In the fading sunlight, she saw that his face was shockingly familiar. It was a face that closely resembled the one she saw every time she looked in the mirror. 
Suddenly, the memories came flooding back. She remembered Christmas with her family, the last one before things went horribly wrong. She remembered how her parents had to choose, and how the awful late-night arguments would keep her and her brother awake, holding each other for comfort. She remembered the scary-looking orphanage looming over her, and its dull lighting and hard beds, its gross food and cranky teachers. She remembered begging her mother not to leave her, hanging on to her dress with all the strength she could carry in her tiny four-year-old body. Most of all, she remembered her last hug, with the promise that he'd be back, once he was old enough, and the brand new baseball cap that she had helped pick out. These were the memories that she had held on to during those long and torturous months at the orphanage, the memories that were later squeezed from her when they took her away and taught her how to be a killer. They told her she was the forgotten one.
She picked up the hat, now tattered and worn. He had kept it for all these years. Holding his head in her lap, she looked into his eyes, her eyes. When his rolled up to meet hers, a look of recognition crossed his face, and he took her hand in his. 
"You found me. I never forgot." he whispered. "There was only so much I could do, forgive me-"
"I know." She cut him off. "I'm so sorry. I didn't know.."
"It's okay," he said, breathing heavily. "I still love you."
The girl was at a loss for words, so she just said, "I love you, too."
The boy closed his eyes and focused on breathing. Neither of them spoke. The boy just breathed, the girl just watched. Gradually, the boy breathing slowed and his grip on her hand loosened. His eyes blinked once, he smiled, then nothing. For the first time in fourteen years, the girl cried.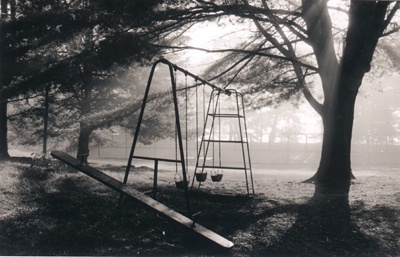 © Steve S., Marblehead, MA