A Paints A Thousand Words
December 22, 2011
"How could this be?! How could this be!?" I wailed. Jacob held me back away from my lifeless sister. I didn't understand. No one- NO ONE- would ever want to harm Lydia. She was an angel. She donated more than enough money for kids with cancer. Lidy visited hospitals and nursing homes all the time. She even volunteered at the Endangered Animals Rescue. I could think of more than a few reasons why someone would murder me. I was addicted to meth; there were a few gangs that needed to get even with me. I had a loaded pistol under my pillow in case anything 'happened' during the night. I was a mess. Lydia was always there to catch me if anything happened to me. I had recently gotten off a trial for twenty years of orange jumpsuits and revolting cafeteria food.. Because of her. She defended me to the end even though she knew I was part of it. But that's the past.

The police said they would do everything they could. That's not good enough. The only thing they have to work with is A. the bloody chapstick that Lidy was gripping. B. the untwisted metal coat hanger still standing in her chest. And C. her alarm clock was set to the exact minute that she was killed.

Jacob is doing everything he can to comfort me. But it doesn't help any. He's just as heartbroken as I am. After all, she was his fiancé. He really loved her. Now she's at the morgue. Jacob is stroking her cheek and crying while I'm talking to the guy in charge. The Police have already looked at everything they can and they're looking for any prints on any of the evidence.
"Is her apartment still under quarantine ? I was wondering if I could take another look around?" The man looked at me, then behind me at my dead twin.
"Yeah it's out of quarantine. Go ahead. But don't forget about the funeral expenses. The flowers, the coffin-"
"She wants to be cremated, and I already have someone to do that, so I don't have to worry about expenses. " My tone is harsh and bitter. Is this all it is to Funeral home owners? 'Just business'? Jacob wants to stay and see her face one last time. I guess I'm lucky, I just have to look in the mirror, and I'll see her there I think as I start the car. My mind begins to wander as I think about her chapstick. Lidy always had a problem with chapped lips. She also loved to do abstract sculptures- with metal specifically. That might explain the untwisted coat hanger being so convenient. I can never understand why her alarm clock was set to that exact time. Was she expecting to be killed? No, that doesn't sound like Lydia. Maybe she was napping setting the alarm to wake her. To wake her for an important time that day?
HONK! "Pick a lane moron!!!" I swerve into the left lane and try to focus on driving. But my mind drifts over and over again. When I finally get there, the landlord recognizes me and allows me to go up. There is something different about this place. Before, whenever I'd visit, I would hear a couple arguing, a blow dryer, and just a lot of white noise. It's silent. Dead silent. When I enter her room, the first thing I do is scrunch up my nose. It still reeks of blood and decay. I force myself to get used to it. I have to figure out who killed her.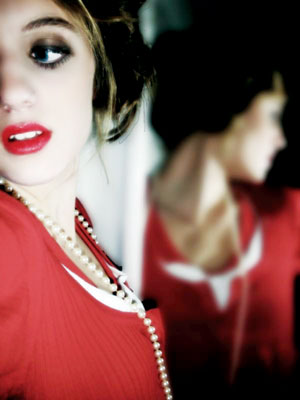 © Matt S., Taylorville, IL