My Name Is Murderer.
December 21, 2011
My head hurts, the room seems to be closing in on me. Glass surrounds me, blood covers my body, and pain seeps through my leg. I can hear screams in the distance, slowly getting louder and louder. A bright light blinds me. I close my eyes, trying to get this image out of my mind. I want to get out of here, I didn't mean it. She shouldn't be dead, I was stupid, it was an accident. My heart rate increases and hot tears form in my eyes. I can see her face behind my eyelids, so beautiful and perfect. Her hair barely touching her shoulders, her smile mesmerizing. My eyes burst open, there she lies. Blood pouring out of her stomach. Her green eyes hidden, her mouth open. Her clothes ruined. It was all my fault.

"Mason," someone screams, "Mason!"

I groan, words not able to roll off my tongue. Salty tears roll down my cheek, and slowly form a puddle under my chin.

"Where are you? Mason, answer me!"

Footsteps, so many of them, running towards me. Maybe one of them was a doctor, maybe they could save her. Maybe she wasn't dead yet, maybe everything was okay.

"I found him, I found Mason! He's breathing, he's okay," a voice said, as a hand grabbed my arm. "Mason, can you hear me?"

I managed to nod my head.

"It's Devin, are you okay," Devin asked, lifting me up onto my feet.

Pain shot up my spine and I crumbled to the ground. "No, my leg," I murmured, snatching my ankle.

"Guys, Mason's hurt!"

"We're coming," voices replied.

"Gabe and Lily are here too, if you were wondering. What happened? Where's Bria?"

Bria. How could I tell him what I did? That she's over there, dead. Blood all over her flawless skin. Her clothes torn and soiled. Bria. The only girl who actually understood me. The only girl who loved me and look what I did. She's gone, forever.

"Dude, where is Bria," Devin asked again, impatiently. "We have to get you guys out of here before the cops come."

I sighed, "She's...under the car. Devin, she's dead."

Devin stared at me. Lily and Gabe ran up next to him, breathing heavily. I could see sweat drip from their brows and land on their shirt.

"Okay, so Mason is found, now we have to find Bria and ditch this joint," Lily said, looking hard at me.

"Mason told me that Bria's dead, Lily," Devin said, grabbing Lily's hand.

"No, he's probably confused. She's alive, she just got out already. She'll show up at the house any moment," Lily stuttered, before breaking into tears.

"We have to go guys, let the water works wait until we're out of here," Gabe whispered, lifting me up onto his back. "I've got Mason. Let's find Bria's body and see what happened."

I directed them to the car where Bria's body was. Glass tangled in her hair, blood puddled around her. My heart cracked, there lies my love. My everything. Her body cold.

Lily screamed, so loud that I covered my ears. Devin covered her mouth with his hand. "Bria, no, no, no! What happened Mason? Why is she dead? Bria," Lily cried at the top of her lungs.

I just looked at Lily and spoke with my eyes what I couldn't say out loud.

"Stop playing games Mason. Tell us why she's dead," Gabe commanded, dropping me on the ground right next to Bria's body.

"It was a mistake. I was stupid. It's my fault. I love her. I didn't mean to kill her. Please understand that. I just wanted to make her happy, she seemed upset. I drove her to dinner and then drove her to the park. She told me that what we had, our love, was dying. She didn't love me anymore, she said she moved on and got out of the car. I got mad. I slammed on the gas and she ran out in front. I didn't stop. I hit her then swerved into the wall. I killed her. It was a mistake." The tears poured out of me, I would never be able to forgive myself for this.

I wiggled off of Gabe's back and to the ground. I took my pocket knife out of my pocket.
"Mason, what are you doing?" Lily screamed, red and blue lights shining around her.
Her eyes filled with more tears, she didn't understand. No one did. Bria was the reason I stayed on earth this long. I killed her, why stay? I held the knife inches away from my neck. Gabe started shouting, Devin yelled for the cops, Lily kept telling me to stop. Loud footsteps headed my way, my heart pounding.
"I'm sorry Bria," I whispered. I took my knife and jammed it into my neck, pain searing through my body.
All I thought about as I laid there slowly bleeding, was how I wished I didn't mad at Bria. I'm sorry.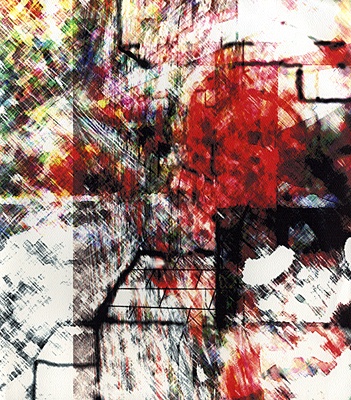 © Preston M., Galesburg, IL