The Room
December 6, 2011
I haven't seen the sun in a long time. I'm locked up so no one can find me. I have been in this room since I was three. The Man brought me here. My only friend is Room. I eat, sleep, and live in Room. Room is my fantasy land. I can, do and be anything I want in it. It's my own little world. I'll tell you about it.

When you first walk in, you will see blank, dusty, molded chalk white walls. I don't like them. I tried to give them a little color with the pictures The Man gave me. On the first wall, there are pictures of the seasons. Summer (a picture of a dog jumping for a Frisbee in the hot sun), fall (a picture of three kittens in a pile of orange, yellow, and brown leafs), winter (a picture of a black crow on leafless tree covered in snow), and spring (a picture of a bunny in a field of flowers). I like to think of the animals as friends.

The ceiling is sunk in and molded from the water that leaks through it when it rains. The floor is white, and it is hard and cold. There's nothing to cover it but a straw mat, where I eat and cook, and a towel. Next to the mat is a fire maker. I warm and cook my food with it. The Man brings me stocks every now and then to light it and make it burn more. I have two tiny shelves on the wall next to the fire maker. I put my small pan, my little pot, my spoon, fork, knife, little spatula, and plastic cup on there. Next to the Shelves, there is a mini cooler. I keep milk, eggs, small butter sticks, a loaf of bread, and a pack of chocolate chip cookies in there.

My bed is old and crumbly. The bars are rusted and have holes in them. When I sit, lay, or move on it you can hear the springs popping, and they poke you too. I have an old stained matrice with a few holes in it. I put an, old, thin shredded sheet on the matrice to try and cover up the holes. It worked a little. My pillow is soggy and molded from me crying myself to sleep every night when I was three and four. I use a sort-of-new blanket to cover me up every night. It has a few holes in it, but it doesn't get in the way till winter. Above my bed is a day chart. It counts the days in a year. The Man gives me a new one every year.

In the corner of the room, I have a wooden chair. It wobbles a little, but it doesn't bother me. There are three picture books next to it. The Man gives me a book every year on the day of my birth. I don't know how to read, but I make up stories to go with the pictures I see.

On the next wall, there is a medium sized plastic green box with silver tape covering the cracks. There is a hole at the bottom of the box and a plug there too. A pipe comes out from the floor and it has a knob that lets out water when you turn it. Five bottles of shampoo are lined up agents the outside of the box and a bar of soap is in it. Three big towels, two medium towels, and a small towel are on the other side of the box. I wash my food holders in the box, and I take a bath in the box.

Last is my potty. It's made out of wood with a porcelain inside. I pull a string on the wall to flush it. The wipes are on the floor stacked in a pyramid. There's a foggy mirror next to the potty, and another tiny shelf for my brush, tooth paste, and tooth brush.

That's my room and it looks like I will be in here forever. Can you help me get out?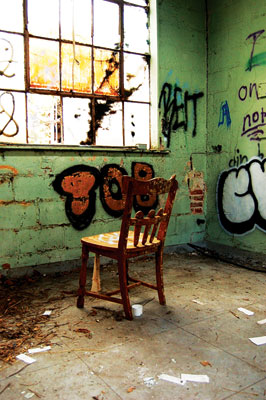 © Gianna V., Sewell, NJ