A Crime
October 23, 2011
My eyes are sagging with exhaustion, overcome with the nausea of images tattooed onto the back of my eye sockets, but whatever energy my eyes have left is focused on that little hole in the wall.
It's too small for an actual escape.
But just big enough for hope.
My thoughts are screaming at me, memories of that one shriek. And red. I think my eyes have been doused with blood instead of contact solution.
My eyes.
They're giving in.
No.
Don't close, don't close, don't…
I see her, her face sallow, her limbs like paperweights holding down the blood-soaked bed sheets. Her eyes are still drained of their blueness, but my mind no longer follows the rules of the world, and so I think she starts to speak.
"Fletcher how could you? Fletcher, Fletcher…"
"Fletcher!" a guard yells, and I wake up again.
The ceiling is as dirty as my reputation.
I whisper into the empty air of the cell, "I didn't do it, it wasn't me, I…"
"Fletcher!" the guard says, banging his hands against my cell bars, "Quiet! Dear God. It's three a.m."
"Sorry," I mouth, because I'm a good person. I didn't do it, I didn't do it, I…
I'm back in that room with her. My fingers are sweaty, struggling with the knob, over and over, but it's locked.
It's locked.
It's locked.
I'm locked.
Locked up.
In a jail cell, I'm awake again, angry.
So angry.
I don't deserve this.
I didn't.
Never.
No…
Oh God, no, I'm flipping in and out, stuck in an in-between of memory and reality.
She's there, on my standard-issue prison cot, crying, her blood dripping onto the bed like sap from a tree, welling up in a red tar pit. Her tears make a spring next to her head.
"I didn't do it," I whisper.
"You really believe that, don't you?" she says, and then she's gone. Again.
Dead.
Again.
Again.
"Fletcher, what's wrong with you?" the guard asks, coming in to the cell, "It's time. Come on, let's go."
I don't struggle.
Why would I?
Where would I go?
I wouldn't hurt the guard, anyway.
I couldn't hurt him.
"You did it," her voice whispers into my ear.
Echoes.
My foot taps against the metal floor.
The rest of the inmates are staring at me.
"You did it."
God, quit taunting me.
"Here," the guard says, shoving me into a room, "Sit."
I sit.
"You did it."
I didn't.
I didn't.
"I didn't," I whisper.
"Sure," the guard says.
Innocent.
I'm innocent.
"You did it."
No.
The guard flips a switch and…
then…
I'm…
gone.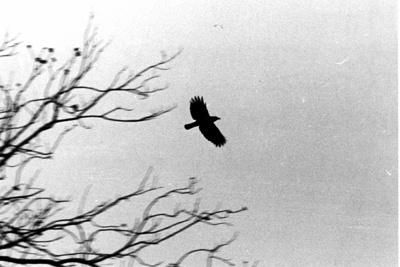 © Jacqueline T., Flowermound, TX