Ghost Lover
October 18, 2011
In the inky night, the stars faintly illuminated the dusty plaza. Even the muted shuffling of the misshapen man interrupted the placid background. The lopsided figure entered his new street; the doctors suggested "a change of environment would be beneficial in the healing process." His concerned sister had picked this place for him during his state of catatonia, but nothing mattered anymore.

He looked around at the cold, hard steel surface and the lack of organic shapes while remembering his old house with her fondly. And just like that, he let the memories hit him like a tsunami; the floodgates were open and there was no going back now. Suddenly he was transported back to his home, the place his heart would always belong. The empty feeling in his chest ached with such severity he wondered if he was having a stroke. That smell of her gardenia and lilac perfume still made his heart race with the anticipation of seeing her fiery, orange hair blazing about her face like the sun. And how could he forget her apple green eyes that had always looked at him with such a heart-wrenching purity? At that moment, he could swear that she wasn't anymore dead than he was a normal, functioning person. The connection between them was palpable and he had no choice but to accept that she was real. He could hear her voice and with that came even deadlier memories. Precipitous mood swings and savage screams, sporadic violence and constant paranoia, she was absolutely insane, but of course he loved her and nothing changed that. After his daily replay of the day she died, he had to remind himself it was for the best.

But she's back, whispered the twisted, masochistic creature in his mind. And so she was, forever.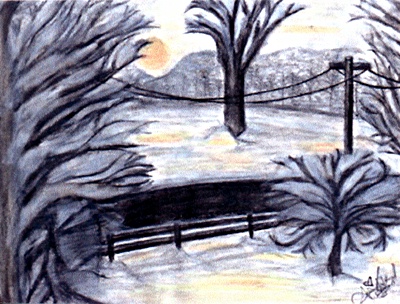 © Amanda W., Nanty Glo, PA