Wullem Grove
October 7, 2011
The wind whispered against a dark murk of houses. The houses themselves creaked and groaned as if in fear as to what was to come. A tendril of smoke swirled from a chimney, as it was mid December. A woman of good thick stalk, though trim in the waist, padded across the sidewalk. Her thick white blond hair was pulled tightly into a bun, her high heeled steps quick and precise. The only sound was that of her clicking heels. The sound was ominous in its isolation.
Click, click, click.

The woman was unafraid of the darkness, her expression unchanging, her posture permanently erect. She was unaware of the dangers undiscovered, though those who had discovered it would wish they had not. The people of Wullem Grove were, in fact, quite a mystery. According to record, there were no citizens of Wullem Grove-the small cluster of houses were older than the civil war, and due to unfortunate events, had not passed on their homes to any family or suchlike. Yet there was still wood smoke.
Click, click, click.
The woman's pace quickened, enticed by the idea of warmth, and even food if she was very lucky. Unfortunately Sophia Newbury-for that was her name-was clearly very unlucky. She had not meant to land in this curios town of which none dare enter, but her small car inhibited ideas of its own.
Click, click, click.

As Ms. Newbury neared the assemblage of homes, she began to notice quite unnerving things-no lights glowed inside of them, for instance, or-worse yet-a few twinges of mold eaten curtains. Beginning to feel very disconcerted, Ms. Newbury scanned the remaining homes, in search of a sign of human life-aside from the movement of the curtains, or the sound she was now beginning to identify as the soft thumping of moving feet.

Click, click, THUNK.

Ms. Newbury gasped aloud when her foot caught in an unseen crack in the sidewalk, and she fell heavily onto the ground. She felt a tight grip suddenly on her shoulder, and spun around hurriedly, the motion causing her to sprawl flat on her back. There was no one in front of her.
Ms. Newbury lie there gasping for a few moments, her breathing jagged and her heart spluttering a beat unknown. She pulled herself straight, embarrassed at her own stupidity. She cursed herself for a fool or worse. Yet, when again she felt the gripping pressure, this time on her arm, she spun again, hoping to see something, anything, that would clear her of the ridiculous notion that someone had grasped her, even for a moment. Or, better, prove that there had been someone, and that she wasn't insane.
Unfortunately, Ms. Newbury had not been watching her footing carefully, and had not noticed the very deep ditch to her left. Her foot slipped on a slippery piece of grass, which was somehow green and lush, and tumbled into the hole. A sickening crack accompanied the fall, a sound that if heard would never be forgotten.

With the last heartbeat of Ms. Sophia Newbury, a new soul joined those of Wullem Grove.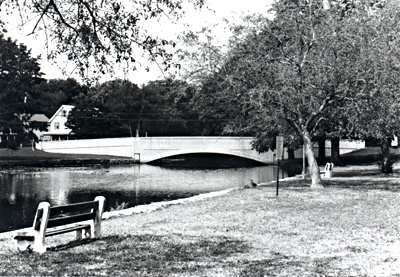 © Geoffrey D., Milford, CT