Amidst
May 28, 2011
The sudden realization that you are contained within the dimly lit library sends a chill rushing through your quivering bones. The massive books coveting the ancient shelves begin to tremble, while cob webs start to vibrate within the haunted chamber. Simultaneously, the room appears to be gradually lowering into the earth, or are the walls extending higher? Only moments after descending beneath the surface, an ear piercing scream echoes from all sides of the diminutive space. Shockingly, seconds after the cry of fear diminishes, an exit to an elongated hallway appears to the relief of the terrorized visitor. Little did the unfortunate guest know of what this eerie candlelit path would lead to.
Three fast-paced steps into the vacant corridor and you are unexpectedly swept off your feet. While overwhelmed by the whoosh of brisk air running past your face, you realize that embarked upon an ancient red chair you remain afloat from room to room inside the haunted mansion. The musty odor, endless collection of dated artwork, and thousands of cobwebs, contribute to the abandoned appearance. All of a sudden, you jolt to a stop, grasping the dusty arms of the plush seat to refrain from flying freely to the distant ground. Your tearing eyes are then exposed to an unimaginable scene. Surrounding you are hundreds of virtually transparent white ghosts of varying sizes gliding through the chilling air of the sizeable open den. Your heart skips a beat as they dash to take flight circling around you, cackling and cheering at their new victim. A painting in the corner was a hidden display shrouded by cob webs of a familiar woman with unreadable jet black eyes. Her visage is drained of color, her lips dusty white like the ghosts hovering about. A shudder seizes your body when you conclude that exhibits your mother, who was murdered at the turn of the century, fifteen years ago to the date.
Your eyes are still locked on the shocking image as the couch swishes to veer into another room. However, you have not yet escaped the gaze of the mysterious wrinkled woman. The face of the painting violently rips out of the canvas and follows you as it transforms into the true head of your deceased mother. Her powerful voice echoes off the walls and bellows the specifics of the day she died. Her crooked forefinger rises to point directly at you. She stares into your eyes sending a burning sensation throughout your veins before mumbling a demand to the ghost leading your way through a foul smelling dark passageway. At that time, you are forced inside a room just large enough to fit you and the chair. The metal door rips shut, the key turns.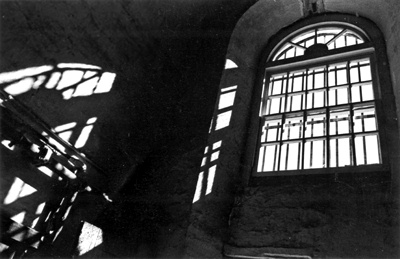 © Alice Y., Basking Ridge, NJ