Locked Up
June 24, 2011
Dark. Everything was dark. As I tried to reach the light, it pulled me back down. I fought, struggling to break free. Nevertheless, it wasn't any use. I only became stuck, not able move. This is forever; I am forever in this swirling never ending…

"Wake up!" I heard the shriek. Figure in white walks out. My alarm clock reads 4:30 a.m. I rub my eyes, black eyeliner and mascara turning my fingers charcoal. I yawn, pulling my glasses from the nightstand. The shallow bruises and cuts on my arm ache as I picked the black rims up. I pull my striped sleeves over the marks and left the room. My bare feet on the hardwood made sounds that made me jump at every creak. I grip the banister as I take the steps two at a time. I run my fingers through my matted wine red hair. I walk through the empty house, not a sound from anything but my footsteps. Morning sun not even reaching the top of the enormous evergreens that seclude the house. The house, it was my prison. They lock you up when you don't obey.
They lock you up when you lie. They lock you up when you're different. They lock you up 'til the day you die. If you kill yourself in the house, they can't be blame. It was your poor and twisted mind that did you in. The house itself wasn't the end. The quiet hours alone, nothing to distract you from the pristine gun case or that pretty collection of knives in the Southern Living style kitchen. What did that magazine even look like? I hadn't seen anything real in over six months.
The thump of paws on wood, trickle of water from the faucet. I enter the kitchen, the wafting smell of bacon and butter fill my nostrils. Yesterday it was bacon and butter, or was that a week ago? Every day meshes together in my brain. I go about it the same way. The steaming plate is waiting for me as I enter the kitchen. I sit on the black and white checkered breakfast seat, same as yesterday. It takes me fifteen minutes to finish. I walk out. Not a moment after I turn back. The figure in white. The plate is gone. I open my mouth, it doesn't respond. The absence of contact is imminent. Next, I continue the routine, padding up the cold stairs to the second door on the left. I am alone. The shower is already running. Steam fills the bathroom. Same temperature as yesterday. The heat radiated over my gashes. I wince in pain as the water washes away the blood. The showerhead shuts off. A warm towel is hanging on the rack outside. I walk back into the room. A black shirt and skirt is laid neatly on the bed. I wrap the towel around my hair. Figure in white walks out.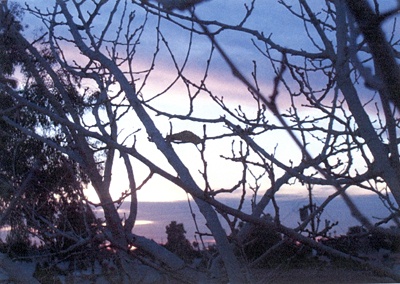 © Delia R.,Phoenix, AZ