Paper Whispers
June 21, 2011
Dry leaves rustled across the avenue, paper whispers in the dark, just out of reach from the pools of light that illuminated the trees lining the pathways. The occasional snowflake or two tumbled down from the dark depths of the sky above, an ominous hint of what was to come. An impenetrable silence had settled over the street, the buzzing energy and life that filled the place during the day was now confined to the warm interior of a late night cafe and my destination. I pulled the edge of my hood further down over my face, a vain attempt to shield myself from the worst of the icy wind that whipped the leaves into a frenzied dance at my feet. My breath hung suspended in front of me, a sparkling vapour that clung to my eye lashes. The light from the cafe beckoned me, like a moth to a flame. A promise of warmth and comfort, of food and people, too tempting to ignore. The enticing sounds of laughter and music filtered out as a patron closed the door behind them. A slight smile pulled at the corner of my mouth as I thought of the hot, steaming cup of coffee that I knew waited for me inside. I picked up my pace, renewed with this thought. A dog laid still at the foot of one the trees, a silent sentry watching my passing with a quiet intelligence in its deep eyes. I paused. It was a giant of a creature, its white fur glistening in the fluorescent lights as it surveyed me. It pushed itself to its feet, easily half my height and trotted towards me. I stumbled back a step, tripping over a knurled root that had broken through the cement, landing heavily on the concrete. My heart pounded in my chest at the approach of this huge creature. It stopped, sitting back on its haunches, if I had wanted to I could have reached out and touched its snout. It woofed softly, sending a warm, meaty cloud straight into my face, its tail thumping the ground. Its mouth spread wide in what almost could be described as a smile, tongue lolling freely. A shaky laugh of relief burst from me and I immediately felt embarrassed at my reaction. Reaching out, I scratched the dog's neck. Foot steps behind me had me look up. A boy stood just a few steps away, his hands deep in his pockets of his leather jacket, a shock of blond hair hung in his eyes. He seemed incredulous and shocked at me sitting there. Then again, I think I would have been the same considering the fact that I was sitting on the ground with a giant dog loaming over me, begging for another scratch. I could feel myself going red as I scrambled back to my feet.
"Is he yours?"
He continued to stare me, confusion evident by his expression. I shifted awkwardly under his scrutiny. Clearing my throat I repeated the question. He blinking dazedly as if waking and looked down at the dog that was now leaning heavily against my leg, pleading for attention.
"Emm... Yeah, I guess he is."
His gaze met mine again. I busied myself with scratching behind the dog's ear, whose tail now bet painfully against the backs of my legs. An uncomfortable silence settled between us.
"Is he an Alsatian?" I asked, thinking of a dog Cara had once owned.
"Something like that, I guess." The silence returned heavier then before.
"Your eyes are very pretty, do you know that?"
I blinked self consciously, before bursting into uncomfortable laughter. My eyes were a hazel, not quite making up they're mind whether they were green or not, quite unremarkable.
"That was a really cheesy line, you know that right?"
He raised his eyebrows in response. "Seriously they're something special."
"Well" I said straightening. "I guess I'll be off then."
I had taken only two steps before warm fingers wrapped around my wrist, stopping me. I glanced down at them before meeting his eyes again.
"What's your name?"
"Louise," I replied, surprised by the question. Behind him I saw Cara standing outside the door of the cafe, waving at me. "My friend's waiting for me I'd better go."
He nodded and for the first time a slight smiled pulled at the corner of his mouth as he dropped my wrist.
"I guess I'll see you around then." There was an unspoken promise behind that statement.
"I guess." A bemused smile spreading across my face and with a parting pat of the dog's head, I turned slowly on my heels and left. I walked quickly over to Cara who was now impatiently shifting from foot to foot with the cold.
"What was keeping you?" She huffed as I pushed open the door, the heat and the rich, sweet, slightly bitter aroma of coffee hitting me with a sudden rush.
"I was talking to the guy." I said, unwrapped the scarf from around my neck with numb fingers.
A small crease appeared between on Cara's brow. "There was a guy? What guy? Do I know him?"
"The guy that was there. And no, probably not, I haven't seen him before." I sighed, suppressing my frustration.
"I didn't see a guy. I guess I missed him." She handed me my coffee and claimed the couch beside the window, pulling out her mobile.
"You couldn't have. He was right there." My mind skipped over the conversation remembering with certainty that he was definitely facing the cafe, to Cara. She couldn't have missed him. It was impossible.
"Well, I must have." She said her full focus now on the small screen in her hand. "All I saw was you standing there on your own. It looked quite weird actually."
I slumped back against my seat, dumbfounded. Impossible.
"So, you saw nothing. No guy? No dog?"
Cara sighed, her fingers madly pressing the buttons of her phone. "Nope. Just you. And as I've said, weird. So, I thinking we should see that new movie that's out. You know the one with the talking cat?"
I nodded, my mind elsewhere, frantically searching for an answer. Could I have imagined it? But I remembered the feel of the dog's fur under my fingers and the heat from the guy's hand on my wrist. No. No it was real. It had to be. I hoped.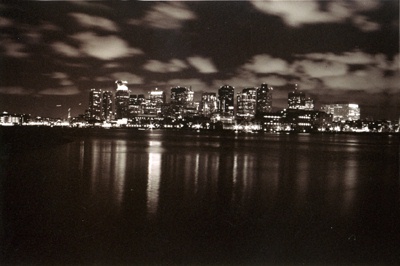 © Hoang P., Rochester, NY