Seven Days
June 2, 2011
I have lived in my hometown all my life, and until nearly a year ago, nothing bad ever happened. Last year, however, when I was in eighth grade, there was a death at the school. A girl had killed herself by hanging herself in the main hallway. Since then, Robert William Traip Acadamy– a preparatory school that now was public and full of preps – had been renovated so no one could go into that hallway. The school had built classrooms around it, and now there was a large, empty room where her body had been.
Even though Kittery, Maine, is a smallish town on the very bottom tip of Maine, I didn't personally know the girl who had died. She had never been in school with me and her parents were divorced. She lived with her dad, but her mom lived in New York – at least, that's how the story goes. No one is sure why she hung herself. All of her friends in her year had stayed either has close as possible or gone as far away as possible, both meaning that they are far gone from Kittery. Sometimes, kids in the high school would joke about tearing down the walls and seeing the vast, dark, empty room where a body once slowly spun in circles, suspended from a black and red scarf.
It was my first year of high school at Robert William, and I was leaving my French II class to go to the bathroom. I walked down the hallway, reapplying my chapstick because I'm a teenage, hormone-filled girl. I walked into the bathroom and went into the stall, took care of business, and then flushed and walked back out of the stall. Now, because RWT is a fairly well-paid school, and because it is full of preps, we have full-length mirrors in the girl's bathrooms. (I'm not sure about the boy's bathrooms. I don't go in there.) But after washing my hands and checking my makeup, I turned to the wall where the heavy swinging door was, next to the full-length mirror. I had begun to pull my shirt down, straightening it, but I froze in the act. I couldn't see my clothes. Not because I wasn't wearing any – I assure you that I was still wearing my sweater and pants – but because someone had written on the mirror.
7 days…
And beneath the message written in bright red lipstick, someone had taped a black and red scarf.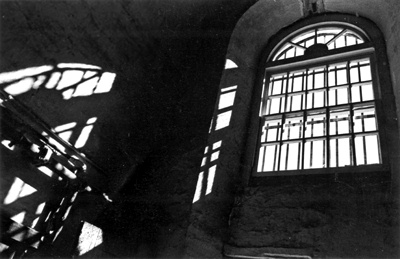 © Alice Y., Basking Ridge, NJ