A Dream Told Backwords
June 1, 2011
A dream told backwards.

I wake up.
The Jag wins.
The Jag slashes me.
Fear becomes its new weapon of choice.
I lose lucidity.
Right?
I'm dreaming.
It can't kill me.
I'm not afraid.
The sword becomes its new weapon of choice.
The Jag separates me from my sword.
Fear is its weapon of choice.
It breathes and bleeds fear.
Its claws sweat fear.
The Jag is the embodiment of the word dread.
I go to battle with the Jag.
It was the best I could think of.
I dreamt myself a large broad sword.
The Jag approached.
I become lucid.
Including defeat the Jag.
You can do anything when you lucid dream.
Lucid Dreaming is when you become aware that you're dreaming.
They need my power to defeat the Jag.
The Jag defeats all of the Mountain People warriors.
The Jag is a monster.
They tell me about the Jag.
The mountain people greet me.
Rushing ocean water gives way to thunderous mountains.
I enter the door and the water disappears.
There is a door.
I find my way down to the bottom.
I begin to drown when I find I can breathe.
The water rushes into my room. Rolling hills give away to rushing ocean water.
The landscape has changed.
But it's not like my normal room.
I find myself in my room.
I fall asleep.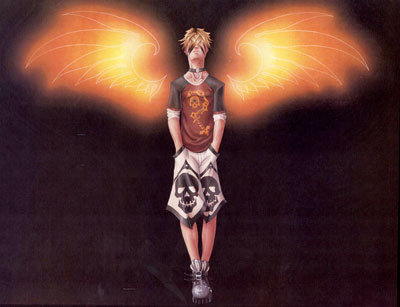 © Raul R., Monte Vista, CO