He Went Out with His Boots On (Ch.1)
April 17, 2011
It's funny what our minds choose to hold onto, and choose to forget. Phone numbers, schoolwork, dates, texts, times; all have slipped through my mind's web without sticking, as if impervious to my mental adhesive. But I remember everything about March 17th, 2011. It can be argued that the trauma I underwent sharpened some inner focus, and that I went back and looked over the day that I would carry with me for the rest of my life. But I would like to think that I woke up that day knowing that something was about to change, something irreversible, something that would define me forever after. For better or worse, March 17th was the day I met Lars Odekin.

The day was gray and misty, the sun yet to grip the horizon and pull itself into the sky. I made my way to 1st period as the bell rang. The mist gently caressed my cheek as I walked, the breeze knifing it open and making off with my heat. I shivered and hunched my shoulders up to shield my face. I jogged up the steps of the two-story building, turned right and opened the door to Mr. Leyander's 1st period psychology class. Mr. Leyander's classroom is a dull tan color; the walls covered with posters intended to motivate me at seven in the morning. Yeah, right. I took my seat in the middle of the room, symbolizing my apathy toward the class. It's not in the back, which would show a total lack of interest, nor in the front which would show enthusiasm. Do an analysis on that, Leyander. As I was thinking of him, he happened to walk in; bow tie blazing, breathing like he was just coming out of a 10k. I silently crossed myself, and began praying like h*ll for some sort of divine intervention, anything to spare me from a lecture. It's funny; life is full of miracles, but never the one you want when you need it. Suddenly the door swung open again, a gust of wind sweeping papers off of the desks. A man in black entered. He was wearing jeans and a jacket, but what I was most taken with about his wardrobe was the thick pair of combat boots he wore. I decided right then that is what I would call him: Boots. "Alright, listen up," Boots said.
I couldn't tell you why, given ten minutes or ten thousand years why I thought this was funny. I almost burst out laughing. But I didn't; mostly because handguns are a lot less funny, and my would-be savior was clenching a Glock-19 in his right hand.

My train of thought is a runaway freighter.

Someone must have screamed behind me, because reality came crashing down around me like a tidal wave. "Shut up, every just shut up!" Boots screamed. More pearls, honestly, there aren't any gunmen with tact anymore. Mr. Leyander made a move towards the phone, but he caught the corner of Boot's eye, and he pressed the barrel of the gun to Leyander's forehead. "No." he said; nothing else, just "No." Boots waved his piece like a maestro's wand, motioning everyone to the far side of the room. We hurried to comply. It's amazing what a little lump of metal will do to a teen's attitude; maybe the faculty should start packing heat. Boots slowly backed towards the door, then swiftly turned and drew the blinds. I heard the sound of feet on concrete, people probably alerted by the screaming. Boots cracked the blinds and peeked out. He licked his lips, then took a step back and squeezed off three rounds through the window. The glass exploded, tiny shards of glass falling in a crystal precipitation. Voices outside shrieked, and a flurry of activity could be heard outside.
"Oh my God," I whispered under my breath. Boots turned towards me, but there was no way he could have heard me. Our eyes met, and he winked.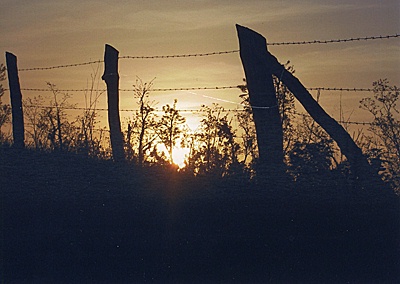 © Michael T., Letart, WV